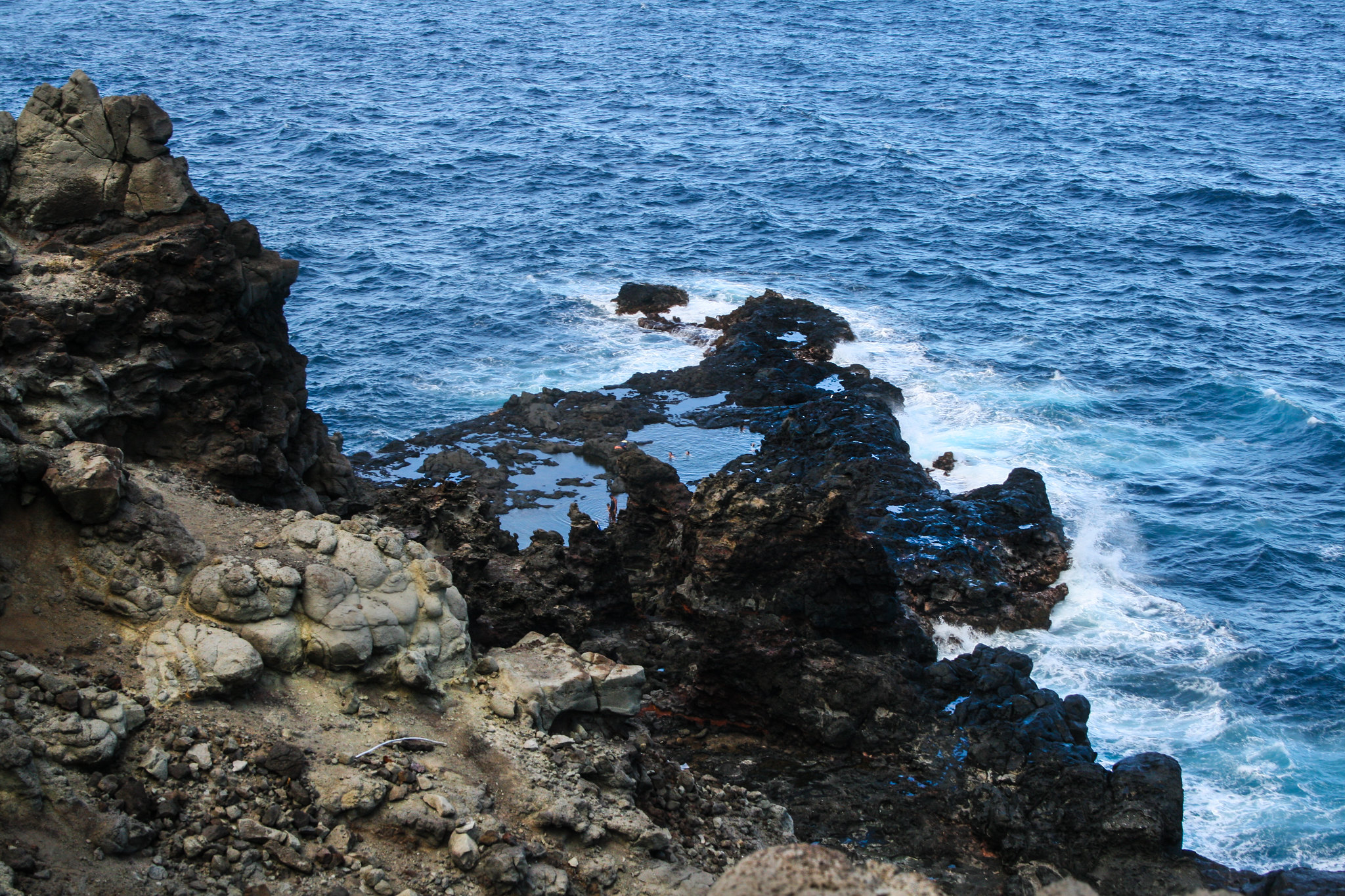 The Olivine Pools Maui are some beautiful tidepools on West Maui's northwestern coast. The natural pool here created by the ocean crashing into the shore showcase some of Maui's more beautiful traits, but also exhibit some of her dangers as well. While this popular spot has these natural tide pools that are a sight to behold, a rogue wave can sweep up the unsuspecting person if they aren't using common sense. Also, there is no sandy beach here, so don't expect a leisurely day on the sand. The rugged coastline, strong currents and jagged lava rock here are the perfect examples of another side of West Maui, opposite from the luxurious and leisurely face you think of when staying at Maui's catering resorts.
Rating
3.5 out of 5 Coconuts!
Summary
This is an amazing spot that lets you experience Maui's natural beauty. Here, you'll get views of the ocean and Molokai, as well as check out some of Maui's beautiful tidepools. To get here, you'll get to drive along Maui's west loop on Kahekili highway and see one (or a handful) of Maui's many micro-climates. From the road, you'll hike a little way, where these tidepools will emerge into sight.
Difficulty
7 out of 10
While not an inherently treacherous hike to reach, the area can, at times, be dangerous. The waters surrounding Maui are beautiful but unpredictable, and this spot can put you in a vulnerable situation. Use your discretion and if there is any doubt to your safety, it's best not to go any further.
Duration
From parking, approximately 15-minute hike
Access
Parking along the road
Description
The What
The Olivine Pools Maui are one of the magically beautiful places on Maui that inspires you to come to the island in the first place. These tidepools sit right on the ocean, so that when the sea crashes the lava rock, each pool is filled with seawater and possibly some hitchhiking sea life, as well.
Disclaimer: Be careful here. While the Olivine Pools are definitely a beautiful sight to behold, since they are so close to the ocean, you can seriously be in danger of getting swept away by a rogue wave, washed away and then smashed back into the nearby lava rock, or just slipping and tripping on the lava rock. There is high chance of getting dinged, scratched, wet, waterlogged or of drowning here. Always be careful and exercise caution.
Getting there: Olivine Pools Trailhead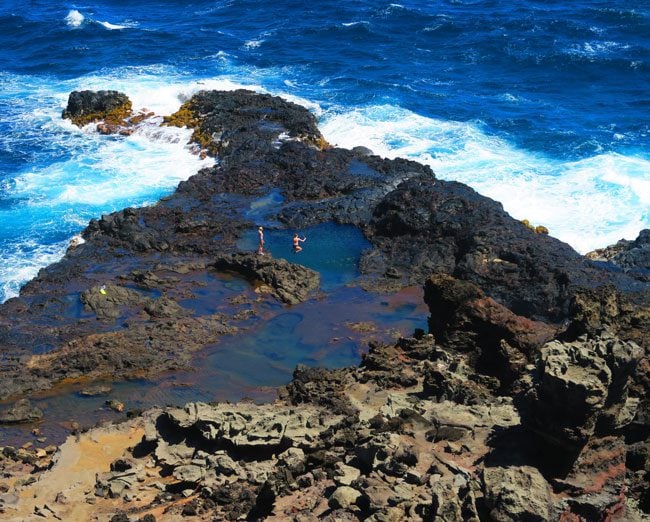 To get to the Olivine Pools, you can drive either from the Kahului side or from the Kaanapali side of Maui's western loop. Once you reach mile marker 16, you'll park and there isn't a parking lot, per se. For this spot if you get there early, there are parking spots but it's hardly ample parking.
After Parking and Getting to the Tidepools
Once parked, you're almost there. The hike to the tide pools isn't terribly long, but you will want to be careful. Pro tip: make sure you have sturdy shoes. It can be a little steep and you don't particularly want to fall. The rocks and worn trails you're hiking over are lava rocks and can get pretty sharp. There was a point in time when surgeons used sharpened lava rock (obsidian) for their surgical equipment because it held a sharp edge so well. Whether or not you need surgery for anything, this isn't the place you want to do it. So take your time and you'll be there before you know it.
Once down there
Go ahead and relax. If you took our advice and brought food and a friend, you can have a picnic basket. Sometimes small fish have found new homes in the tidepools, but they're not really something to be worried about. The biggest concern for danger down there is Mother Nature and the ocean. Watch out for rogue waves. The lava rock down there can be pretty sharp. That combined with the breaking waves, and sometimes huge waves, and sometimes enormous waves, can be a dangerous combination. Never underestimate ocean waves.
Keeping safety in the back of your mind, this is probably a spot that you won't see anything like on the mainland. Sometimes the tidepools feel like a bath after sitting in the sun all day. More often than not though, the ocean can be raging and if you fall or slip into the ocean, chances of survival can be slim. Exercise caution.
Ways to Enjoy
Not a bad place for a picnic, although it's a pretty rocky trail to get there. Don't expect sandy beaches.
Also a great place to snap a few pictures. Who knows? Maybe this could be your Christmas card.
BUT, make sure to take the proper safety precautions when coming here and always monitor the ocean conditions when considering going in or around the water. You don't want to be another anecdote on the local Maui News.
What are the little stacks of stones?
When you're hiking around, it's not uncommon to see the little stacks of stones down here or just in general while you're hiking. Known as cairns to some, people build these as a hello to fellow hikers who come after them. Sometimes, they're built to mark trails or certain areas. If you do see them, keep an eye out in that area, as you may find something special.
Sometimes, they have no purpose. People like to build things.
In any case, watch out for these little guys. Try not to knock them over as there are likely some people down below that may be in the path of this micro-avalanche.
What Else Should I Know?
So, the Olivine Pools.
What else should I know about these pretty little tidepools?
Are the Olivine Pools dangerous?
They definitely can be, especially if you're not paying attention when you're down there.
It's a devastating thing when something unavoidable happens when you're on vacation, but time and time again, there are news stories of people dying while hiking on Maui.
One of the places you hear about it is at the Olivine Pools.
The tidepools aren't typically the problem. They are fairly shallow and there are usually other people there since it's a fairly popular sight-seeing spot.
The problem usually comes from people not taking the proper care by the water's edge.
One tragic incident that comes to mind when thinking about olivine pools accidents can be found by going here to this article at MauiNow.com.
While this Olivine pools rescue resulted in the initial victim coming out of it safely, her father drowned from his daughter's rescue.
On top of this tragic accident, a quick search on one of Maui's most prominent news websites shows hundreds of articles about the Olivine pools, most of which are referring to injuries and deaths.
Your takeaway from this?
Be extremely careful when hiking on Maui and visiting these and other tidepools.
Can you swim in the Olivine Pools?
The tide pools are large enough that you can go into them, but be careful. Anything close enough to the water's edge has the potential danger of sweeping you out into the ocean or at the very least pushing you up against sharp lava rock.
It's not a comfortable swim, but you can dip into a tidepool here, but it's not recommended and you're doing it at your own risk.
How Can I Safely Visit the Olivine Pools?
Make sure to check the weather conditions and surf reports beforehand
Avoid actually going in the water and the ocean. There isn't a safe way to get in and out of the ocean here.
When in doubt, don't go near the water's edge and the crashing waves
Go with a friend and have a hiking buddy
Avoid going during night-time and dawn and dusk.
Don't push your own personal limits.
When to visit Maui's Olivine Pools?
The Olivine Pools are at least 40 minutes from Kaanapali by car, so plan for around an hour's drive to get there if you're staying in the Lahaina area.
Also, the rule of thumb is that the ocean is a little calmer in the mornings and gets rougher as the day goes on, so it would be better to visit these pools from the morning time to the afternoon.
This is not a maintained, state-authorized hike so it's not a good idea to go here when it's dark. There are no light posts or any real lighting options other than natural sunlight, so make sure when you come here, you have enough daylight left to get there and back safely.
5 Other Tidepools To Check Out on Maui
Twin Falls
Kuau Cove
Anchialine Pool Caves
Waikamoi Stream & Waterfalls
Wailua Falls
Nearby Sights
Nakalele Blowhole (thought you'd only see a blowhole on a whale or a dolphin? Check this place out.)
Kahakuloa Village and Head
Some of Maui's best snorkel spots
Want to see a beach unique to Maui? Don't miss Maui's Black Sand Beach on the Road to Hana!
Pictures
no images were found
Video
Warning #1: Always be cautious when hiking on Maui
Address
Latitude, Longitude:
21.0075,-156.557
Mile Marker
Map
Gear
Your Brain (as always when hiking)
Waterproof Phone Case (while there are others, this one is the best.)
Bug Repellent (this natural one is our favorite!)
Dry Bag (you're on an island. You'll probably get wet.)
Paracord (there's always a use for this.)
Camera or Drone (you can't beat this one.)
Spare Socks (laugh now, but you'll take this one seriously post-hike.)
Shoes (these are great hiking shoes.)
Clothes you can get wet
Sunglasses (this brand specifically is the best for ocean and water activities.)
Sunscreen (use this one to help preserve the coral and marine life.)
First Aid Kit (better safe than sorry.)
Check out this link for a deeper look: Best Things to Bring on a Hike
Other Places You Might Like
Waioka Pond, or the Venus Pools, was a popular local spot but there are a few things you need to know to go there