The Waihee Ridge Trail is one of Maui's most beautiful hikes, sporting coastline views from a luscious, green overlook. While it's not exactly an easy hike, it's also not the hardest one you'll find or even find on Maui for that matter. There's roughly a 1000-ft incline over the course of the hike and it's a little more than 4 miles roundtrip, but if that doesn't faze you, you're in for an incredible and unforgettable hike!
Want to go snorkeling in one of Maui's most special and unique snorkeling spots? Click here to read our ULTIMATE guide on this one special place…
Hike Rating: Should I hike the Waihee Ridge Trail?
4 out of 5 coconuts!! Don't miss the Waihee Ridge Trail!
Difficulty: How hard is this hike?
8/10
This hike consists of some very steep inclines. It is approximately three miles long, one way. If you're looking for a nice easy stroll, probably not looking for this hike. There is roughly a 1000ft elevation gain over the course of the hike as well.
That being said, it's a great hike and worth any amount of difficulty you may encounter. This is one of Maui's epic hiking trails, with epic views to match.
Summary: Give me the Gist of this Trail!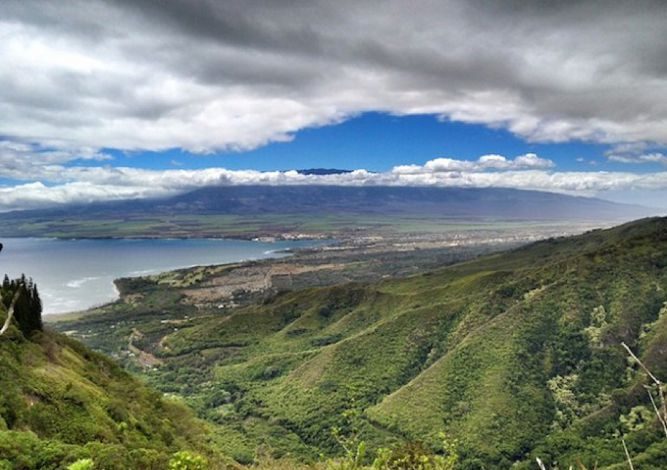 This coast trail hike takes you along the ridge going into a portion of the west Maui mountains from the northern side of the island. From the hike, you get scenic views down into Waihee Valley. The moment you set your sights on this side of Maui, all else will melt away. The trail leads you to the top of one of the ridges where you can rest at the peak and have a snack (if you pack one) at the picnic table at the top, before you turn around and make your way back down.
Also, since this an official hike, it is maintained by Hawaii's Department of Land and Natural Resources and, for the most part, the trails are fairly well kept. That being said, this is a rainy area, so it still tends to be muddy.
There are two parking lots: there's the main one right at the trailhead of the hike and the overflow parking lot. The overflow parking lot is over half a mile down the road from the start of the trailhead, so it's in your best interest to get to the hike at a decent time or your hike just got harder (and the extra distance from the overflow parking lot to the main lot isn't nearly as pretty as the rest of the hike.)
The Waihee Ridge Trail has several different sections to it: from the initial uphill battle on the concrete hill slab, to the woodsy forest section, to the semi-consistent ridge section immediate after the forest section and then the more slightly uphill portion to the end of the hike, where the picnic table is waiting for you.
You'll encounter a mile marker here and there along the way. The hike is a little more than four miles roundtrip, so you're getting close to the end once you come across mile marker 2. But there's still a little uphill to go from there.
The spectacular views along the course of the hike are pretty consistent. You're going to be surrounded by Maui's beauty just about the entire time.
Things We Recommend to Have to be Prepared on the Waihe'e Ridge Trail
These make such a huge difference on this hike. Using these, it's like you have four legs instead of two and whether or not you thought these are weird, you'll be happy you brought these.
It's not uncommon to rain up here and at the end, you might even find yourself in the clouds. A waterproof phone case is a good idea in general down here.
You always want to have a water stash when you're hiking around. This a great one and it's not nearly as expensive as these can get.
Don't miss out on these other hikes in Maui!
Waihee Ridge Trail Description: How to do this Hike
Trailhead: Waihee Ridge Trail Parking Lot
From the trailhead parking lot, you'll head toward the entrance where you will have to slide through a little fence. It's angled in a way that you will have to side step through it because it's probably partly there to keep animals (like cows, which you may come across) from going into and leaving the area.
Here, there's also usually a portable toilet that you will definitely want to make use of if you have any indication that you're going to need one in the next couple hours.
There are no other places along this hike that you can officially use a bathroom.
Pro tip: use the portapotty now, while you have the chance.
Concrete Hill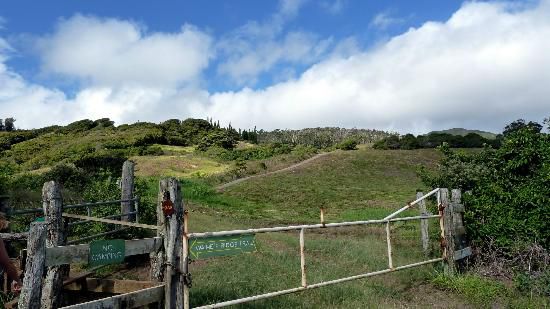 You will come to the very beginning of the hike. The concrete hill is probably one of the more difficult aspects of the hike. Getting to the top, especially if you're carrying gear, will likely get your heart beating but this little section is not a foresight into the future; this is one of the steepest climbs of the hike.
But don't let this steep hill deter you from going on this epic hike.
Forest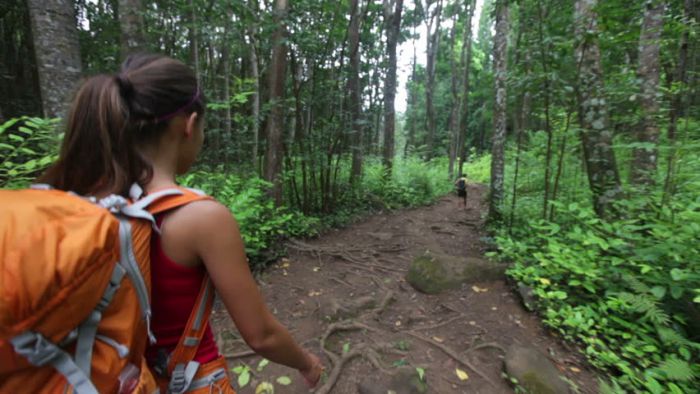 After making it to the top of the hill, you'll start to enter the forested area of this hike.
In this portion of the hike, there are a handful of stops where you can overlook different ridgelines and valleys of the West Maui mountains.
Some of these stops overlook Makamakaole, or another hike known as 13 crossings.
Lookout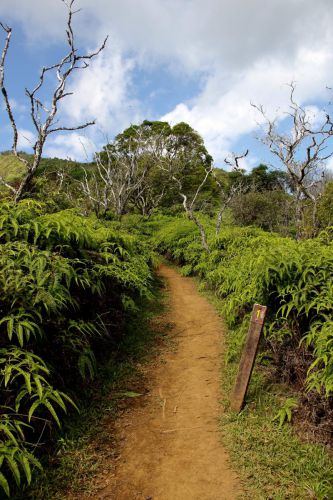 There are several lookouts along the way to the top of this hike and you'll reach one overlooking part of the Waihee Valley. This is the first real glimpse into what this hike offers and you'll be happy you decided to keep going on the trail.
Peaks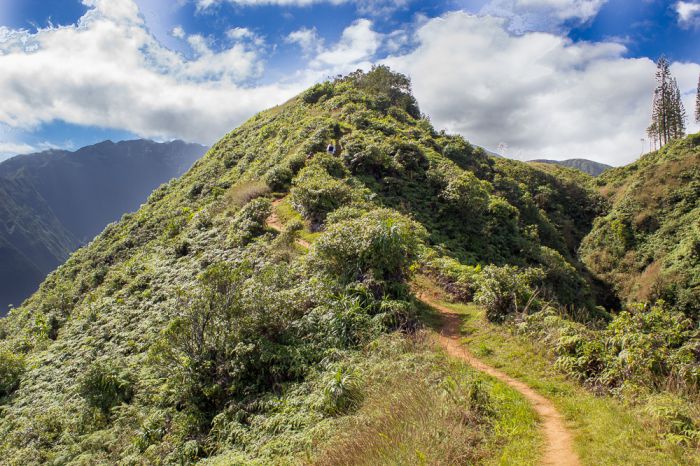 You may find yourself out of breath a couple times here and there along this trail. On the way to the summit, it's pretty much a constant incline. You can keep in mind the way back is going to be much easier, since you'll be going downhill for the majority of the way back. There aren't too many dedicated places to stop and relax on the way up, but there are parts where you probably don't want to fall, so take the time you need to take a breather.
You will also come across different spots that make you feel like you're getting close to the actual summit, but you'll know you're there when you get to the picnic table at the top.
Another pro tip: if you have them or have access to them, bring hiking poles. Trekking poles will make your life so much easier on both the uphill stretches and the downhill parts of the hike on your way back down, especially if you have to whip out your rain jacket if it starts to rain.
You won't regret this if you're trekking through the slick and slippery mud.
Summit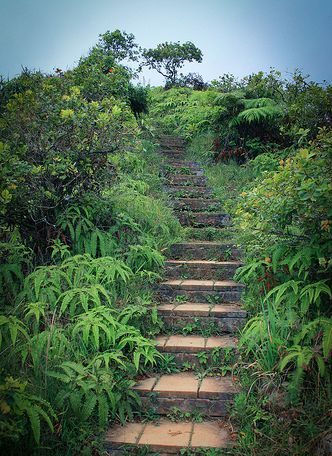 Once you make it to the end and the actual summit, there's a picnic table, ready for you to celebrate your job well done. The air feels cleaner up here and you'll get an amazing overview of the Waihee Valley and the ocean. Relax, have a snack and take in the beauty that is Maui.
This is definitely a fun hike on the valley isle of Maui.
Are you a runner and you're looking for more hikes? Check out this list of hikes for runners in Maui!
What Else Should I know?
Got some more questions about this hike? Let us know by filling out this form!
Want a more personalized list? Fill out the form and we'll reach out!
Otherwise, we'll answer some common questions.
So, Waihee Ridge Trail Reservations, do I need one?
Nope!
You don't need any kind of reservation for this hike. You simply pull up, park and get your feet dirty.
It is a popular hike among visitors and locals alike though. And getting more popular.
Sometimes, it can get busy enough that the parking lot fills up. There is a second, lower parking lot, but it is a hike in and of itself getting from the lower parking lot to the upper one, where the trailhead of the hike is.
It's in your best interest to avoid peak hours or at least to get there early so you don't have to worry about finding a parking spot.
Is there a Waihee Ridge Trail fee?
Also no!
It is a state-maintained hike so you don't have to pay anything to gain entry.
Please be respectful though. Don't leave trash up there or along the hike. Pack out and take with you anything you bring.
There are two port-a-potties in the parking lot for doing your business. Aside from that, there isn't much other than nature here.
Is Waihee Ridge Trail dangerous?
Could be, depending on how you hike.
As always, exercise caution when hiking.
On this trail, you'll be going along the ridge of the West Maui mountains. That side of the island especially tends to be green and wet, which is probably part of the reason you'll enjoy the beauty of the hike.
But it also is a reason that you could slip in the mud, as it can be a very muddy trail.
On that note, make sure you wear clothes you're okay getting dirty in.
It's also not a bad idea to bring a waterproof backpack or a rain jacket, in case you're caught in a (fairly common) rainstorm.
Caught in the rain in Maui? Check out this article for things to do on rainy days in Maui!
When is the best time to hike Waihee Ridge Trail?
The best time to hike Waihee Ridge Trail is earlier in the morning. It's best to avoid the heat of the day, so you'll probably want to avoid noon time.
You also can't be in the area later than 700pm, as that's when the gate is shut and locked.
Make sure you're done hiking and give yourself enough time to leave by before 700pm.
Is there a waterfall on the Waihee Ridge Trail?
Aside from distant views while on the trail, you won't come across a waterfall up close on this hike. You can see all over, from the West Maui mountains to the the ocean, but there are no waterfalls in the actual proximity of the hike.
What about dogs and the Waihe'e Ridge Trail?
You can bring your best friend, yes! But the pup must be on a leash.
Here is a link to the official DLNR (Department of Land and Natural Resources) material on the Waihe'e Ridge Trail.
Waihee Ridge Trail Weather
Here is a wind forecast for the northern side of the island!
Pictures
no images were found
Videos
Location: Where is the Waihee Ridge Trail?
Northern side of Maui, West of Kahului
GPS
20.952933,-156.531696
Map
https://goo.gl/maps/V5HKx3X4NStSrLPR8
Access
Parking lot
Time restricted access; closed at night, usually at 700pm
Gear
Gear
Your Brain (as always when hiking)
Waterproof Phone Case (while there are others, this one is the best.)
Bug Repellent (this natural one is our favorite!)
Dry Bag (you're on an island. You'll probably get wet.)
Paracord (there's always a use for this.)
Camera or Drone (you can't beat this one.)
Spare Socks (laugh now, but you'll take this one seriously post-hike.)
Shoes (these are great hiking shoes.)
Clothes you can get wet
Sunglasses (this brand specifically is the best for ocean and water activities.)
Sunscreen (use this one to help preserve the coral and marine life.)
First Aid Kit (better safe than sorry.)
Check out this link for a deeper look: Best Things to Bring on a Hike
Nearby and Related
Makamakaole (13 Crossings)
Disclaimer
Time: Make sure you finish before the trailhead closes! If you're hiking later than 700pm (as of this time), they shut the gate and you could be locked into the parking lot!
Check out some other awesome hikes on Maui here!