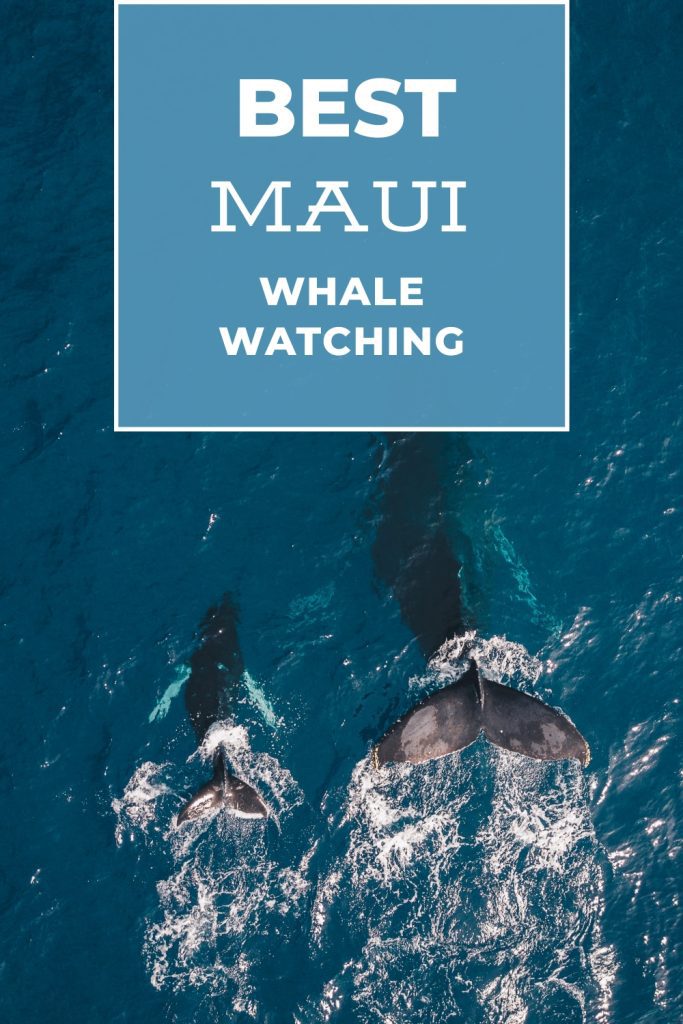 Experience the beauty of Maui's majestic whales on the best Maui whale watching tours – breathtaking views, knowledgeable guides, and unforgettable memories!
Want to jump to our favorite Maui whale watching tours? Scroll down or click here to see our recommendations now!
Maui Whale Watching Tours! What Should I Know?
Imagine some the biggest majestic creatures that you'll ever see. Just like many of Maui's residents, the North Pacific humpback whale are only in Maui for part of the year.
Humpback whales only come to Maui during the winter months, with the official season being from December 15 to May 15.
These majestic creatures make the journey down from Alaska to visit these warmer waters to give birth and to mate.
Your best chance of seeing the most activity is during the heart of winter which is mid to late January to mid February. You'll still see whales during the rest of the season but if you really want to see whales you will want to be in Maui sometime between mid January and February.
If you want to go on a whale watching excursion, you have a couple of options. If you're planning on going on a boat excursion, you'll most likely be leaving either out of Lahaina Harbor or Maalaea harbor.
95% of whale watching tours in Maui will leave from one of those two harbors.
Although if you're in Maui during the heart of the season, you really can't go on the water without it being a whale watching tour.
Want to jump to our favorite whale watching tours? Scroll down or click here to see our recommendations now!
Overview of Whale Watching in Maui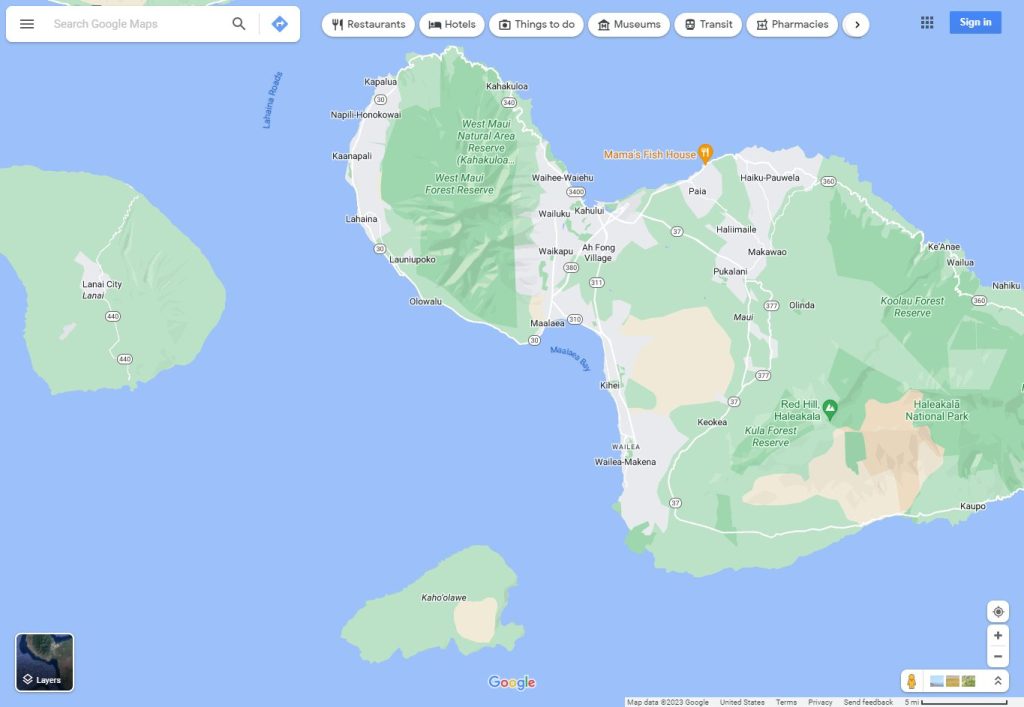 Whale Watching Maui: Factors to Consider When Choosing a Whale Watching Tour
How Much Do Maui Whale Watching Tours Cost?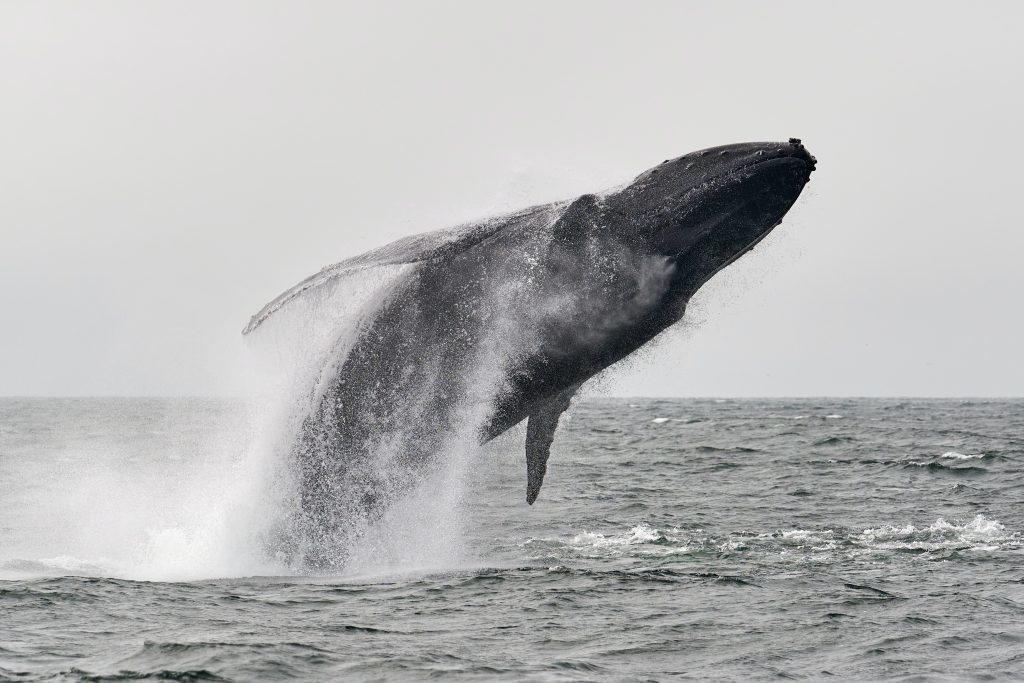 Depending what you're looking for, some whale watching tours are more expensive than others.
Sometimes it's worth it to spend a little more to get a lot more.
We've included some of our favorite whale watch tours in Maui below or you can click here.
Usually, you can expect to pay anywhere between $40 on the lower end and up to $150 on the upper end for dedicated whale watch tours.
Wondering what you get for the extra hundred dollars?
Sometimes you will have food and beverages included (beverages could include alcoholic drinks), a larger boat (or smaller boat, because those tend to be a little more personal), more amenities or more comfortable amenities and professional and knowledgeable marine naturalists.
There are different reasons to choose different votes and companies and it all depends on what you want out of your whale watching tour.
Usually, you can expect to pay anywhere between $40 on the lower end and up to $150 on the upper end for dedicated whale watch tours.
How Big of A Group Should I Go with When Whale Watching in Maui?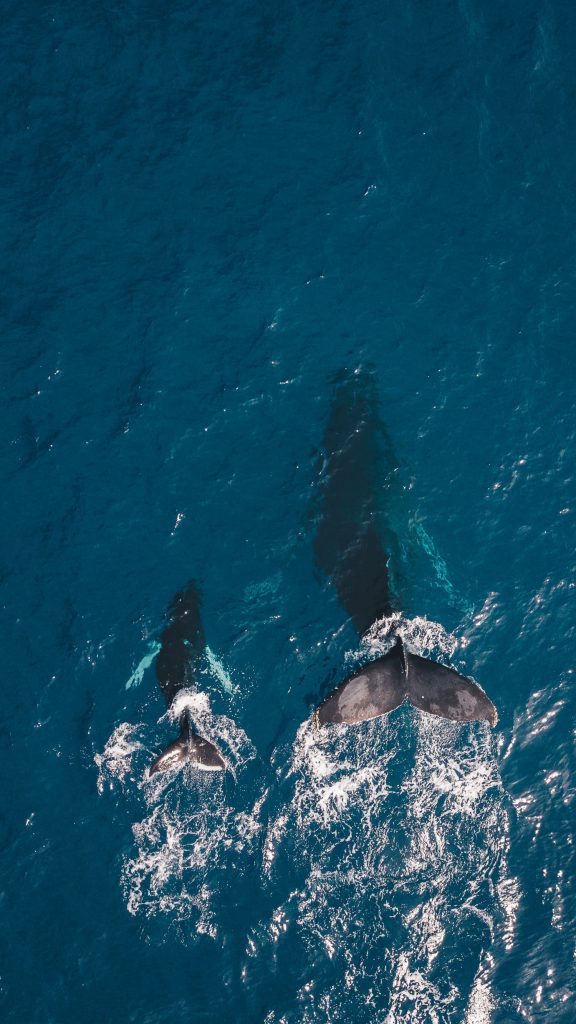 Depending on what you want from your whale watch tour, you may want to go with the larger boat over a smaller boat.
The larger boat that we recommend down below generally provide Marine naturalists to either answer your questions about the North Pacific humpback whales or just provide an overall information session talking about the whales (and other marine animals if you have questions about them).
The larger boats, like those from the Pacific Whale Foundation and Boss Frogs' Calypso, generally have a naturalist speaking into a microphone, narrating facts and answering questions over the loudspeaker about whales and other marine animals.
Duration of Whale Watch Tours: Should I Pick A Longer One or a Shorter One?
So, how long of a whale watching tour should I pick?
The longer you're on the water, the more likely you are to see whales. If you're in Maui during the heart of the season, you probably don't have to worry about wondering if you're going to see the whales, as much as you have to wonder about how many wells are going to see.
But, if you're here on Maui either earlier in the season or later in the season, you are slightly less likely to see an abundance of whales.
That being said, there usually some stragglers later on in the season (I mean, who would want to leave Maui?).
Most of the tours end up being around two hours.
If you're going on the water for a snorkeling tour during whale season, you'll have a built-in whale watching tour anyway. Snorkeling tours are usually anywhere between three and five hours.
Wondering what some of our favorite snorkeling tours are? Click here to read some of our recommendations.
You can also read our comprehensive guide to a snorkeling spot that's almost completely unique Maui in the entire world.
Also, many Maui whale watching tours guarantee whale sightings.
What Should I Bring on A Whale Watch Tour? Pack the Essentials!
When going out to check the whales, there are a few things that we would DEFINITELY recommend that you bring.
Here's our quick list:
Binoculars
Sunglasses
Waterproof Phone Case
Waterproof Backpack
Reviews of the Top Whale Watching Tours in Maui
There are a handful of options to go out on the water for whale watching in Maui, but not all of them will give you the same experience.
Most of your options will leave from either Lahaina Harbor or Ma'alaea Harbor, which are about a half hour drive away from each other if there isn't any traffic.
Lahaina Harbor is in West Maui in Lahaina and it's close to Kaanapali where many of the hotels on the western side of Maui are.
Maalaea harbor is in central Maui and is closer to Kihei, Wailea and Kahului. If you're not staying in Kaanapali or Lahaina, Maalaea harbor will be closer for you.
Some companies have boats out of both harbors and they generally give you a similar experience as their sister ships out of the other harbor, like the Pacific Whale Foundation for instance.
However, it's important to note that Maalaea harbor is one of the windiest harbors in the world on average, so you maybe have a little more weather there.
Generally, that doesn't affect the whales' activity though. How much the whale is doing and the amount of whale activity partially depends on the time of year but really just the luck of the draw.
The time of the day doesn't matter much when it comes to whale watching when it comes to whale activity. The are active in the evening and at night sometimes too.
Don't think that if you go out earlier, you'll have a better chance of seeing the whales. Just like people, some get up and do things in the morning and some are more active in the afternoon and the evening.
We've put together a list of some of our favorite whale watching tours and separated them by the area they operate out of.
*Pro Tip: Make sure you know which harbor you're going to, as if you make it to the harbor on time, you most likely won't have time to go to other harbor if you go to the wrong harbor.
Lahaina Harbor Whale Tours
Lahaina Harbor is in the heart of Lahaina town, right across the street from the famous one-block-long Banyan tree. There are some great food options right here and Lahaina is an awesome town to grab a bite, do some shopping and watch sunset as the sun will set right off of the beach there.
Where is Lahaina Harbor?
https://goo.gl/maps/MKdPpSETLNKtyErGA
Pacific Whale Foundation Whale Watching
The Pacific Whale Foundation is one of the premier whale watching companies in Maui (and the world). They offer support to whale researching, claiming to donate part of their proceeds from their whale watching trips to whale research and protection. Several of their boats operate out of Lahaina harbor and they also have some vessels in Maalaea as well.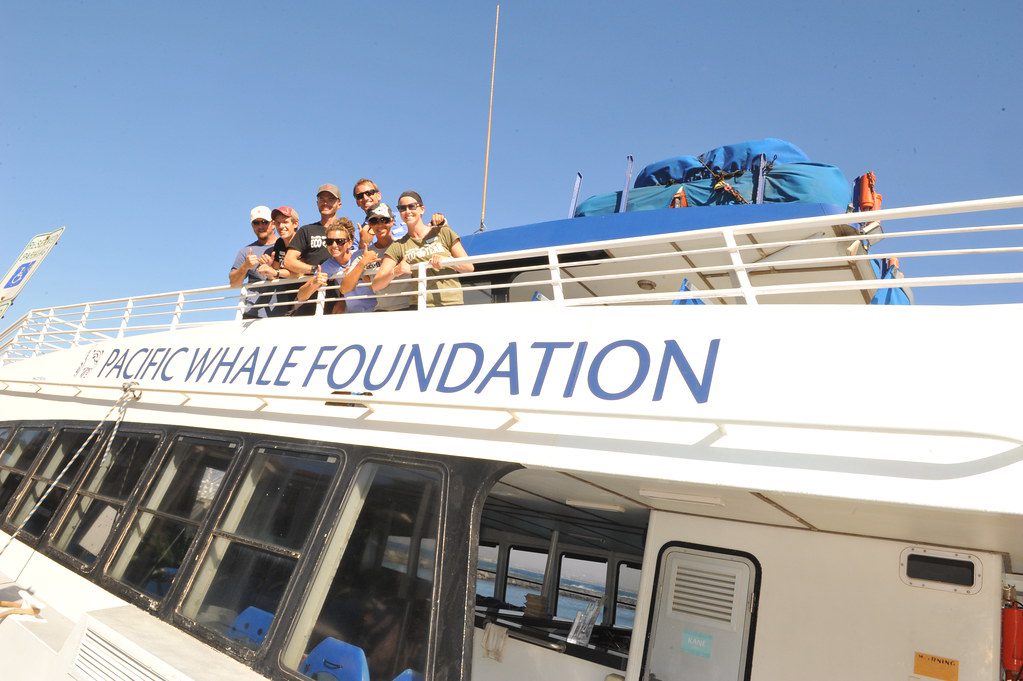 Book Your Pacific Whale Foundation Whale Watch!
Some of the boats in their fleet also don't run whale watching excursions and are fully dedicated to whale research (unfortunately, it's unlikely that you'll get to experience THAT whale watch).
However, the Pacific Whale Foundation offers multiple dedicated whale watching adventures on multiple boats out of both Maalaea harbor and Lahaina harbor.
This company also provides food, drinks and an onboard naturalist that will inform you about the visiting North Pacific Humpback whales, why they come to Maui, what they eat, explain their actions and mannerisms and just about any other question you can throw at them.
The onboard marine naturalist typically knows all about the whales but also knows about the marine life around Maui and Hawaii too. You won't be restricted to asking only about the north pacific humpback whales. They usually know all about the other marine mammals, like false killer whales (which I learned aren't actually whales) and the other tropical fish indigenous to the Hawaiian waters.
You'll also learn all about the female whale and which it may seem like larger groups of whales might be chasing her. Or why they come to Maui's warm waters and leave their feeding grounds, as opposed to staying in the cold Alaskan waters and avoiding the thousands of miles journey.
You could also learn about the whales' tail slaps, pec slaps and why they jump clear out of the water, which is called a breach, and you can also learn all about their natural habitat.
You may even be lucky enough that they have their hydrophone on vessel (I have been on their boat both where they had their hydrophone and when they didn't). But if they do, they can drop it in the water and you can actually hear the whale song, which the naturalist will play over the loudspeaker for you.
They're a great company to go with if you're looking for a larger, more stable boat with amenities as opposed to a more adventurous trip that might include some additional excitement like speedy boat and proximity to the whales (all vessels aren't allowed to approach the whales, but as big as the Pacific Whale Foundation's boats are, you'll be further away from the water than if you were in a raft, if a whale happened to approach your boat, which they do sometimes).
Many of their dedicated whale watching tours are two hour whale watches.
They also offer combined whale watching and snorkeling tours.
You can book their trips out of Lahaina HERE!
Book Your Pacific Whale Foundation Whale Watch!
Scotch Mist Whale Watch
The Scotch Mist is one of the most authentic sailing boats in Maui and out of Lahaina Harbor. If you're looking for more than just a whale watch, take a sailing excursion with these guys.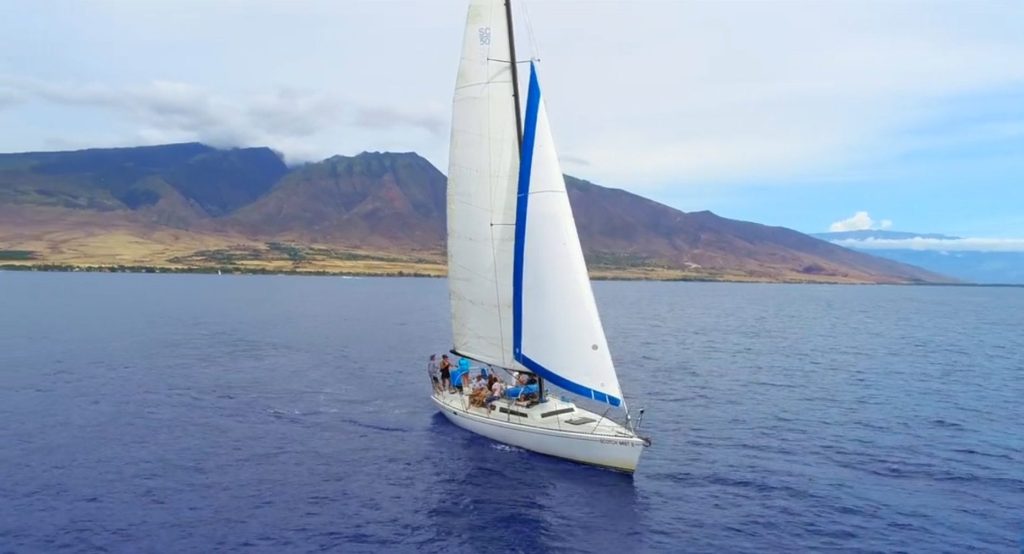 (Here's a secret: if you're on the water at any time during the heart of Maui's whale peak season, you're on a whale watch whether you want it to be or not).
If you're in Maui during January and February, you're almost guaranteed humpback whale sightings, although some excursion actually guarantee it and others don't.
Also, if you've never been on a sailboat, you're in for a treat. It may not be for everybody but when you're sailing on a monohull sailboat (a single hulled sailboat), when there's wind, your boat leans (heels) over and gives you an experience you'll probably never naturally feel in any other situation.
There are a lot of people who go sailing and catch the bug, specifically seeking out sailboat trips wherever they go for the rest of their lives.
Scotch Mist is among the most authentic sailing excursions you can book in Maui and all of Hawaii (although there's another one that we love!).
This is also a fairly intimate experience where you'll get to know your loved ones and possibly the crew better. You won't feel like you're being cattle herded, like you might on some of the other boat tours you'll encounter.
Want to wrap your whale watching trip and sailing excursion into one?
Scotch Mist might be just the company to book with for you!
You can book them here!
(Want to book out a private sailboat charter? Having the private boat to yourself with Scotch Mist is a unforgettable life experience!)
Ultimate Whale Watch
Looking for an adventurous whale watching tour? The Ultimate Whale Watch boat is the one for you!
Book the Ulimate Whale Watch and Snorkel!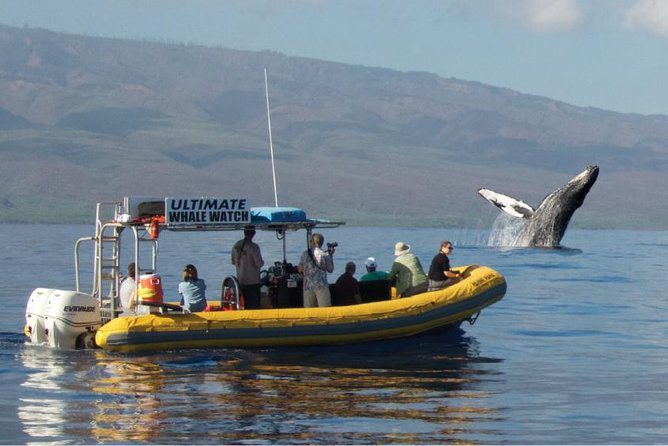 These guys take you out in a raft (technically it's a RIB) and don't worry it's not a little inflatable dingy.
Their boats are outfitted with large engines for their size and can get to where you can see the whales quickly. Because of this, when you see the whales with these guys, it'll almost feel like you're in the water with them!
The raft sits right on the water's surface and so if you get lucky and a whale decides to come up the you on the boat (remember, you can't approach the whales within 100 yards), you could be looking them right in the eye!
These guys are world renown for their whale watching tours and the very first partial whale birth in the world was filmed on one of their boats years ago (it was fairly recent too).
It's not uncommon to be close enough to the whales with these guys that you could stick your GoPro in the water to record them!
On top of that, since they're a smaller boat compared to many of the other whale watching tours like ones in the Pacific Whale Foundation's fleet, they can get their fast.
Which makes for an exhilarating ride!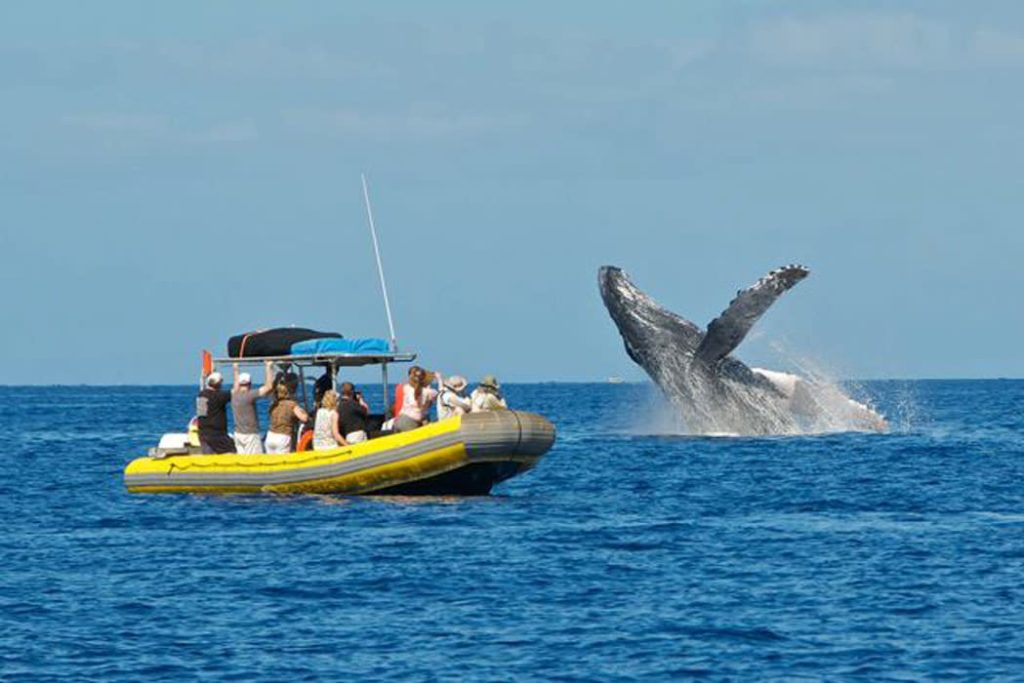 This might not be for your if you have restricted mobility or injured in anyway, however if you're healthy and want some extra excitement, as well as want to be closer to the whales, this might be the whale watching boat for you!
You can book them here for the four hour tour that includes snorkeling (they will include snorkeling equpiment for you on this one)!
Book the Ulimate Whale Watch and Snorkel!
Or you can book here for their two-hour dedicated whale watch!
Book the 2-hour Ulimate Whale Watch!
Looking for a great beach near Lahaina? Check out Kaanapali Beach!
Ma'alaea Harbor
Maalaea harbor is one of the two main harbors in Maui that you'll likely take a commercial boat tour out of (the other being Lahaina harbor).
90% of tours will go out of one of these two harbors (although some boats operate out of boat ramps or load you off of the beach).
If you're planning on doing a snorkeling trip out to Maui's world-famous Molokini crater, you'll likely leave from Maalaea harbor (check this out for our comprehensive review on Molokini crater!)
Ma'alaea harbor is home to a bunch of different boats that offer whale watching tours but we've included our favorite below!
Where Should I Go for Maalaea Harbor Whale Watching Tours?
https://goo.gl/maps/x1BLXxmXnQ6pbMpJ7
Ma'alaea Pacific Whale Foundation
Like their Lahaina-based fleet from above, the Pacific Whale Foundation also operates in a similar manner but out of Maalaea harbor.
Calypso Whale Watching Tours (plus Molokini Crater)
Calypso is one of the newest additions to Ma'alaea harbor and is a state-of-the-art engineering marvel. The largest in height commercial operating vessel in Maui, Calypso is a triple-decker boat that takes its passengers, snorkeling, whale watching and dining (yes, there's a dinner cruise aboard the Calypso). And because it's such a large boat with large engines, you'll be among the first boats on the water to get a front row seat to the whale action as soon as there's a whale sighting on the water!
Book Calypso Molokini and Turtle Town Snorkel!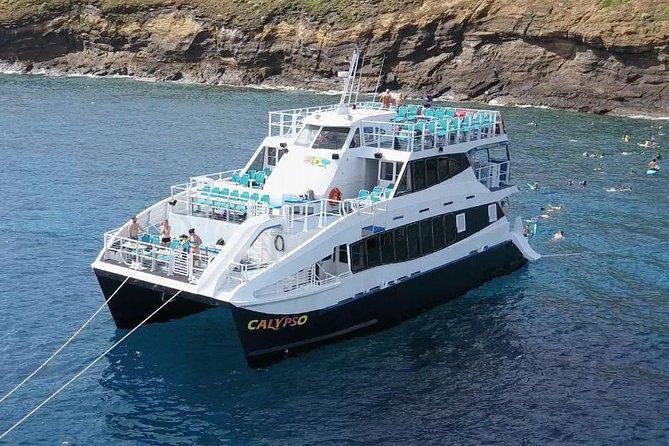 You most likely won't get all of those adventures on a single trip (unless you accidentally fall overboard) but the Calypso is an all-in-one, jack-of-all-trades beast of a boat.
This highly-rated snorkeling and whale watching excursion has given thousands of people an awesome day on the water. Don't believe me? Just check their stellar reviews!
As one of the largest commercial boats operating in Maui, it has the ability and certification to carry up to 149 passengers, so you might make a new friend or two. You'll also have all of the amenities you could ask for on a boat trip. Some of the smaller boats don't even have a bathroom or a toilet to use.
These guys will, on top of taking you whale watching, bring you to some of Maui's best snorkeling spots, provide all of the snorkeling equipment plus a snorkel instruction if you need it, provide food and drinks and top-notch service.
There's usually a crew in sight wherever you are on the boat in case you need help with something.
The boat also has multiple ladders for getting in and out of the water, underwater glass-bottom panels so you can see in the water and the tropical fish while in and on the boat, a slide and a platform to jump off of for an awesome time.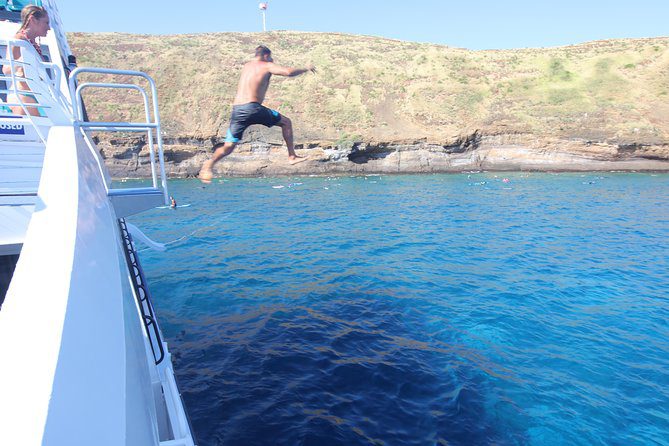 You don't have to do all of those things, but you can if you want.
All of that, on top of a premium whale watch makes this trip a no brainer.
This boat has more features than many of the other boats combined.
Book Calypso Molokini and Turtle Town Snorkel!
Pros of Calypso's whale watching tours
One of the largest boats, meaning extra stability
More amenities like bathrooms, food, water slide, jumping platform, glass bottom and seating
On board naturalists
Great for families
Cons of the Calypso whale watching excursions
Most likely more people so it could get crowded
Less personal experience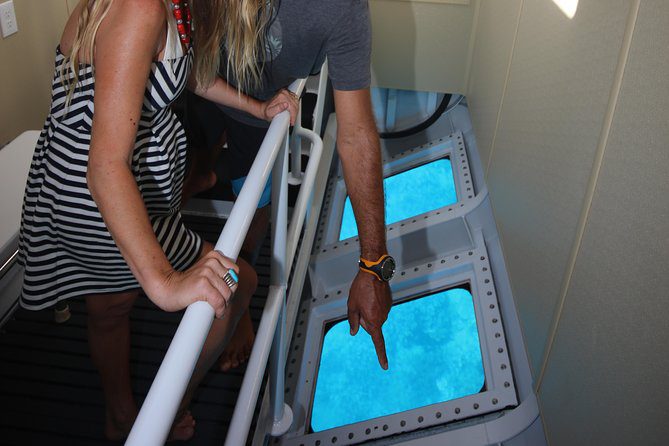 And you can book Calypso's Molokini crater and Turtle Town Snorkel and whale watching trip here (during whale season, you're just as likely to see whales on this trip as any other dedicated whale watch)!
Book Calypso Molokini and Turtle Town Snorkel!
Malolo Whale Watching trips
Malolo is Calypso's smaller sister ship and does dedicated whale watching tours (as well as snorkel trips).
Book Malolo Whale Watching Tour!

Drinks are included in the trip and they also have an underwater hydrophone so that you can hear the singing whales' whale song.
You can book Malolo's whale watching tour here!
Book Malolo Whale Watching Tour!
Want the most authentic performance sailboat tour maybe of your life? Check out our review of the fastest commercial sailboat in Hawaii!
What Else Is There to Know About the Whales and the Best Whale Watching Tours in Maui?
Conclusion
Summary of Reviews
There are a ton of options when it comes to whale watching tours in Maui. Just about every boat company in Maui will offer a whale watching tour between December 15 and May 15, which is the official whale season in Hawaii and Maui.
But depending on what kind of excursion you're looking for, not every whale watch tour is for you.
Whether you're looking for luxury, amenities, excitement, amount of time watching whales or if you're trying to combine it all into a single trip will determine which tour you will want to take.
Recommendations for the Best Whale Watching Tour in Maui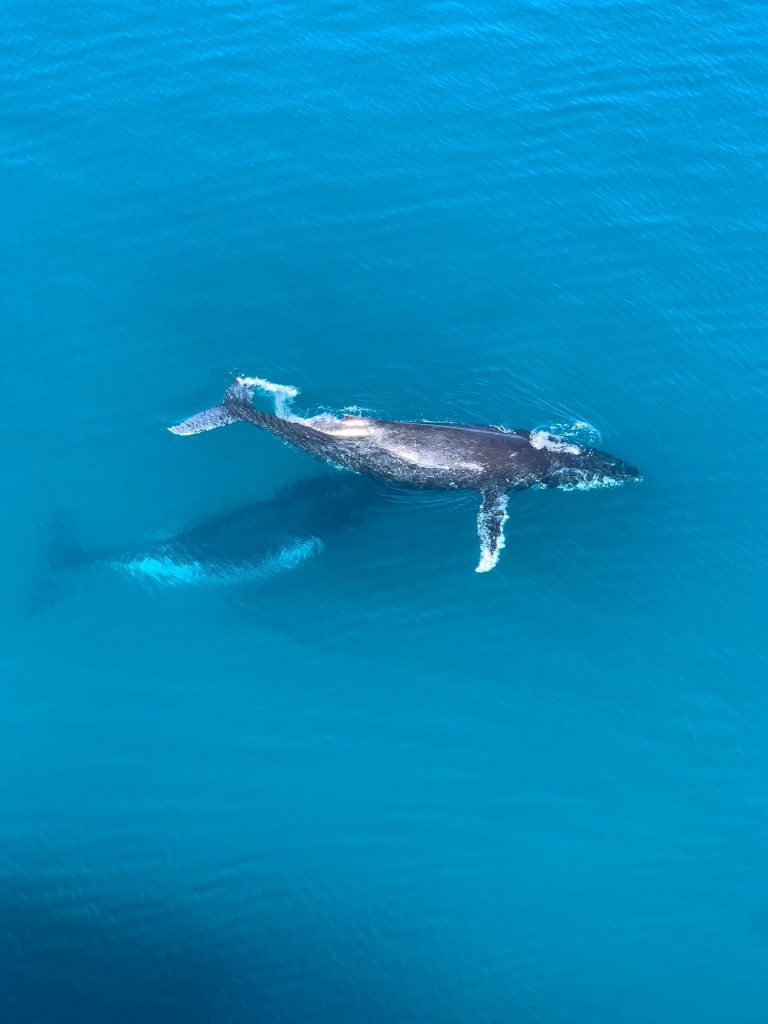 Among all of the whale tours you can take, a few different tours stand out. Calypso out of Maalaea harbor will give you the most overall bang for your buck. While they're not the least expensive trip out there, they have so many features that are included in the tour that it's like doing several tours. It has whale watching, multiple snorkeling spots, food, amenities, service and you get to ride on a state of the art boat. If you're looking to sail with the whales, Scotch Mist is an awesome option that gives you an authentic sailing experience on a monohull sailboat and it's more personalized as they have a maximum capacity of around 1/6 of what some of the larger boats carry (and you can also book it out privately, although they're not the only boat company that offers private charters). And the Ultimate Whale Watch boats give you an exciting, fast ride where time and time again they have proven that they are among the most authentic whale watches in the world, having been even the first place where a whale birthing was filmed.
Between these options and the other mentioned above, you're sure to find a great whale watch!
Thinking of going on a snorkeling tour too? Make sure you stay clear of these fatal products!