Molokini crater, (often misspelt Molikini) is one of the most popular spots in the entire state of Hawaii. Bird sanctuary, rare geographical structure, world-class snorkelling spot and awesome overall destination for a day on the water, find out everything you could want to know in the Best Molokini Crater Guide!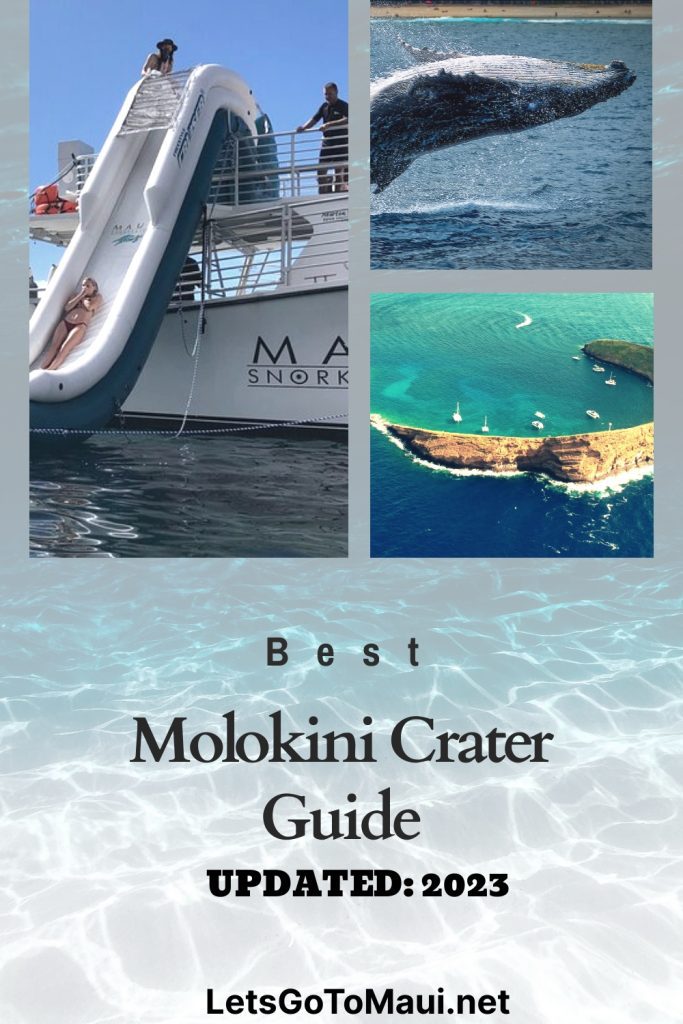 Looking for a Molokini crater snorkeling boat and want to jump straight to our recommendations? Click here for our favorite snorkel trips!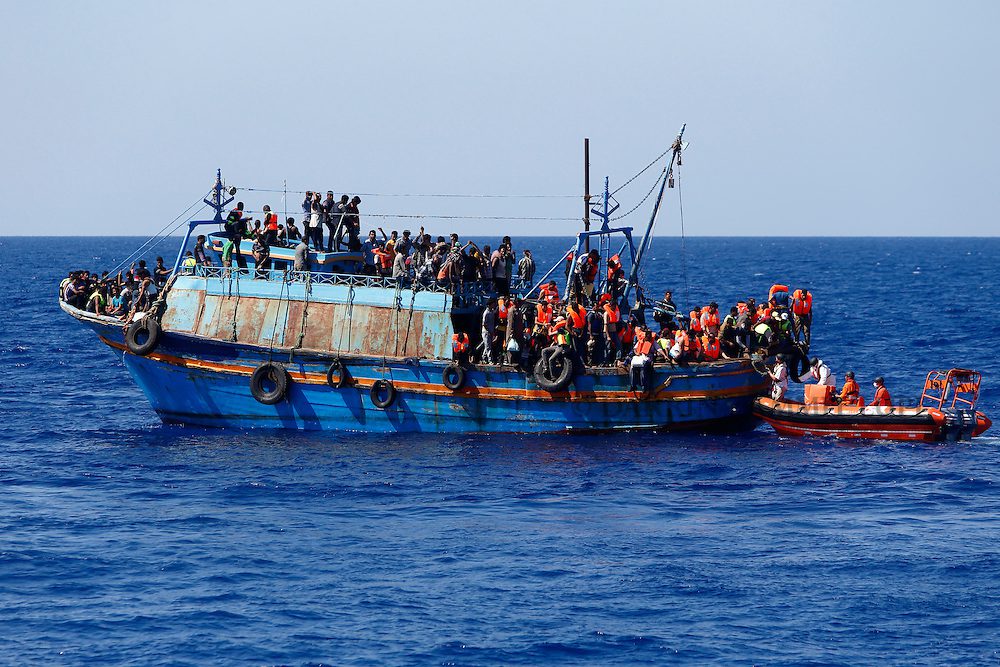 Don't end up like these guys.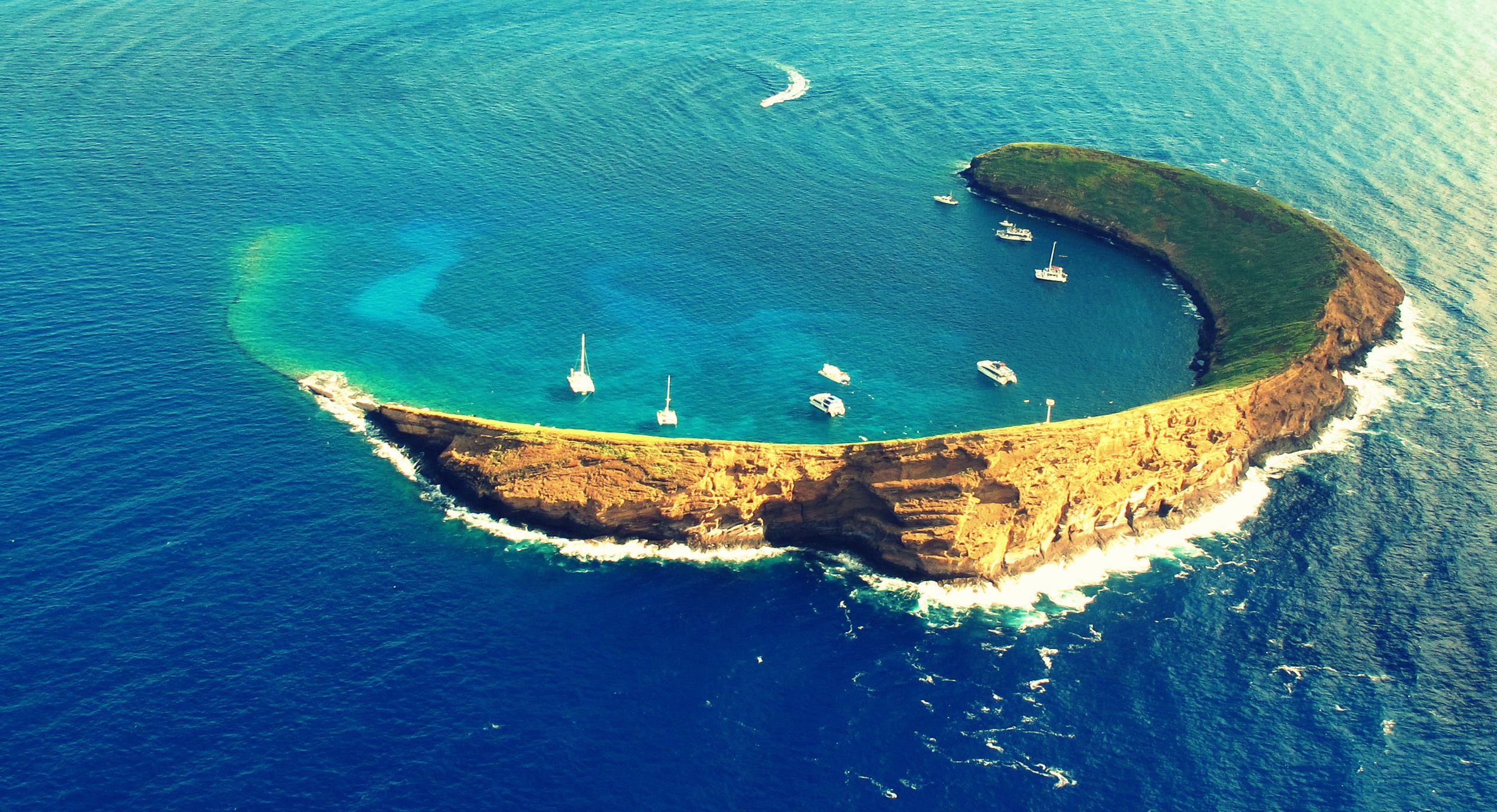 Want to book with our favorite Molokini charter company? Check out the BEST Molokini crater snorkel trips here!
What is Molokini? The History of Molokini Crater
There's some Hawaiian lore of how Molokini was formed but science tells us that that Molokini crater came to be about 230,000 years ago. It is a cinder cone caldera and it is one of three sheltered caldera in the world that you can snorkel in.
Because of this protected structure, many Hawaiian tropical fish flock (or flood, would be more appropriate) to Molokini and her beautiful coral reefs and it makes for a great spot for visitors to get a front seat to Maui's marine life and Maui's many different species of fish.
Molokini was also used as a target by the United States military because it is roughly the same size and shape as a battleship. There are still unexploded ordinance on the islet, which would be a problem for people if they were allowed to explore the crater.
Even with it being the popular destination spot it is, if you're heading there, you won't have to worry about the military's old bombs. You're not allowed to set foot on the crater because it's considered a protected marine sanctuary. Unless you have permission from both the federal government (United States Coast Guard) and the state of Hawaii's Division of Forestry and Wildlife, don't expect to go exploring on the islet, like many say they want to do, without paying the $10,000 fine entrance fee for walking on the islet. Don't end up like these guys who had to pay $380,000 in fines.
Looking for a Molokini crater snorkeling boat and want to jump straight to our recommendations?
Hawaiian Lore
One of the Hawaiian stories as to how Molokini was formed is a pretty common theme in mythology, jealousy.
Molokini was a woman who was at odds with the fire goddess, Pele. They were going after the same man and so Pele cut her in half and threw half of her out into the ocean. Molokini's head stayed on Maui and became what is now known as Pu'u Olai, which is the cinder cone that is the nearest landmass and can be seen from the crater, right next to Big Beach and Makena.
How's that for a squabble? Takeaway from this Hawaiian legend?
Don't mess with a fire goddess.
Types of Fish
Molokini is home to over 200 species of marine life and tropical fish.
Wait, is Molokini a marine Sanctuary or a Bird sanctuary?
Both.
The crater is protected by the State of Hawaii and is monitored by their Department of Land and Natural Resources and it is a designated Marine Life Conservation District.
Marine Life Conservation Districts are designed to conserve and replenish marine resources.
Because of this, the no one is allowed to actually touch the coral reefs without receiving a hefty fine.
Molokini crater, as a Hawaii state seabird sanctuary, is also home to the migratory frigate bird and there are times that there are hundreds of frigates nesting and flying around the islet.
Since it's a seabird sanctuary and a marine preserve, this makes Molokini among some of the places in Maui to see and experience marine animals and many different coral species since they're protected here.
Want to book with our favorite Molokini charter company? Check out the BEST Molokini crater snorkel trips here!
Areas of Crater
Over the years, people have coined names for the various places within the crater. Some say certain spots are better than others, but the fact of the matter is… fish swim. You're not going to go snorkeling and expect to find that certain fish in that same spot all the time.
They're foraging and living life.
That being said, here are the different coined spots at Molokini Crater.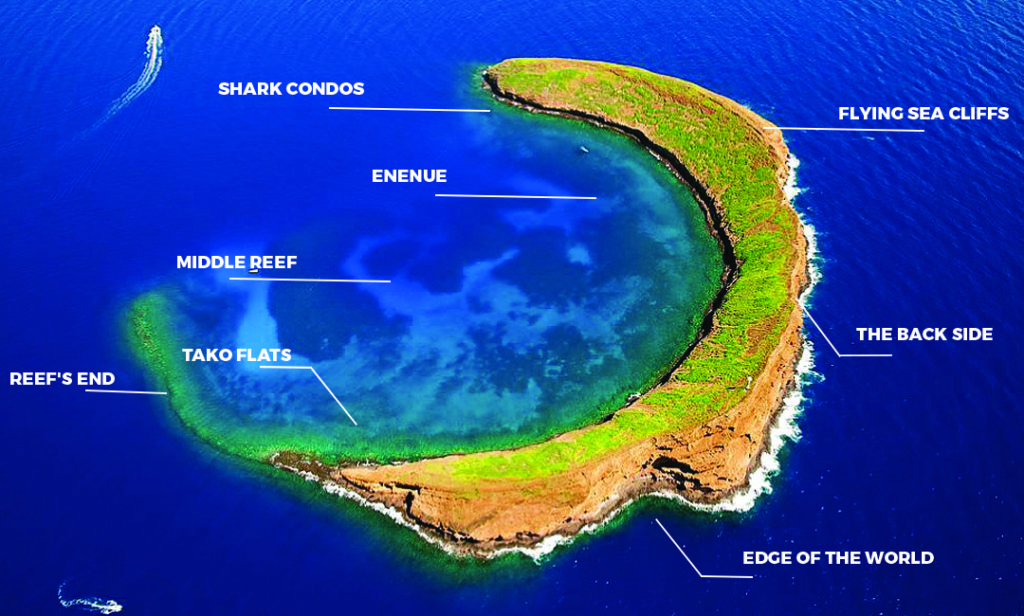 Reef's End, Mid Reef, Enenui, Tako Flats, Shark Condos, Flying Sea Cliffs, Back Side, Edge of the World
Looking for a Molokini crater snorkeling boat and want to jump straight to our recommendations?
Also, if you look at the crater from above, you'll notice the distinct circular crater shape. Over the past 230,000+ years, it's eroded, so part of the crater has sunken into the ocean.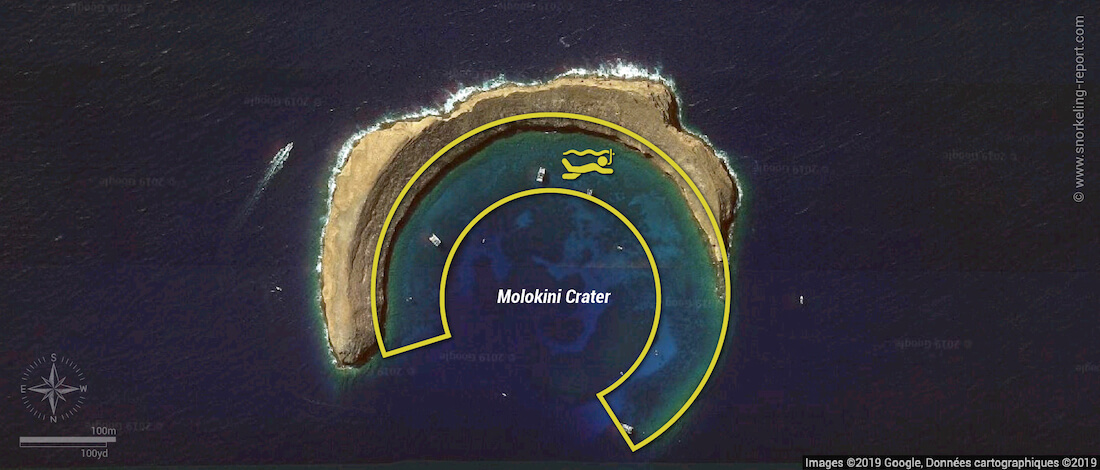 How Deep is the Crater?
It ranges anywhere from 10 feet to 200 feet, depending on where you are.
Is Molokini inhabited by people?
No, the uninhabited islet is protected by the government as a Marine Life Conservation District, meaning people aren't allowed on without explicit permission from the state and federal government.
How to get to Molokini Crater?
Thinking about buying a boat? They say the two best days of a man's life is the day he buys a boat and the day he sells it.
B.O.A.T. stands for Busting Out Another Thousand. Boats are expensive and it's not just the buying part. Upkeep, maintenance and fixing whatever breaks (which something always is) gets real costly, real fast.
So it's good to have friends with a boat, not so much to own them.
You can either get to Molokini by going out on a holo holo with a friend (non-paying charter) or you can go on a charter boat, which there are plenty of. There are a restricted amount of boats that have a commercial use permit but they're easy enough to find. Unless it's a really busy season, chances are you can find a tour boat that can take you out there. Many of the boats that visit the crater leave from the nearest harbor approximately 10 miles away, Ma'alaea Harbor.
It really comes down to, what kind of day do you want to have on the water. Read more for our thoughts.
Looking for a Molokini crater snorkeling boat and want to jump straight to our recommendations?
Best Molokini Crater Snorkel Tours
People have said, would you rather be on a Naval Battleship or a row boat?
Given Molokini's history, you probably don't want to be on the next closest thing to a battleship in that area ;).
In our experience, the smaller your boat is, the better the trip. Some boats leaving the nearest harbor, Ma'alaea harbor, are certified by the US Coast Guard to carry 149 paying passengers and some of those boats will pack that many people on. The calm waters inside the crater usually make for perfect conditions for a great snorkel day.
Just because the Coast Guard deems it safe to carry that amount of people, doesn't mean that you should.
There are other boats that are certified for a certain number and then they cap their passenger count to less or half that amount to make it a more comfortable trip for their passengers. You may or may not pay a little more for that, but the little that you might pay more is totally worth it in for comfort.
Check out this spot for one of the best snorkeling spots on Maui!
What Kinds of Snorkeling Boats Are There?
To jump straight to our recommendations, click here!
As a quick overview and general rule of thumb, here's a list of boats going from least passenger count to most:
Rafts, RIBs and Zodiacs For Snorkeling Tours at Molokini
Generally carry less than or around 10 – 20 passengers.
Typically these are for a little more able bodied people who want a little more of an exciting time.
They go faster but they usually feel the waves and the ocean a little more than the bigger boats and so they can be a little bumpier. They also tend to be wetter and you probably won't have many places to hide from that.
These boats tend to be open air and barebones and they probably don't have a bathroom on board.
That being said, they can be really fun.
If you have mobility problems, these types of boats are probably not your best choice.
Sail Boats for Snorkeling Molokini
Anywhere between 4 – 40 passengers.
Sail boats can be the best way to experience the ocean. There's just something about turning off the engines and moving by wind power alone.
And in Maalaea, there's usually plenty of wind power as it's the second windiest harbor in the world.
90% of the charter boats going to Molokini leave from Ma'alaea harbor and the rest will most likely leave from Kihei or Wailea. There may be one or two that are based in Lahaina going to Molokini, but that's a long trip and you're better off leaving from Maalaea.
Since Maalaea usually has so much wind, sailing out of this harbor can be exciting and fun.
There are a handful of companies that operate a molokini crater sailing charter, such as Trilogy (which is one of the most popular), Island Star (which mainly does private charters) and our personal favorite, Sail Maui's Paragon II, a performance sailing catamaran.
(Here's a link to book with our favorite!)
Medium Sized Boats and Catamarans For Molokini Crater Snorkeling
Anwhere between 20 – 60.
Some of the medium sized boats that go to Molokini crater offer an experience somewhere between the larger boats and the smaller ones.
The larger the boat, the better it handles the average water. Because of this, you're prone to getting sea sick, some of the medium to larger boats might be more up your alley.
Usually the larger the boat, the more passengers the boat will try to take. So a larger boat does NOT mean you're more likely to have some space for yourself.
Companies that fit into this category are Trilogy and Alii Nui, which are both "sailing" catamarans, as well as some dive boats like Maka Koa, Aqua Adventure and Maui Diamond.
Some strict power boats that fit into this category would be Lani Kai II with Maui Snorkeling (the Lani Kai II Molokini Crater tour is also one of our favorites!).
Large Molokini Crater Boats
Hoo, mama! 50 – 150 passengers!
Generally these boats are larger and they don't run if they don't have at least 40 passengers.
Examples of these boats would be Calypso (one of our recommendations), Pride of Maui, Four Winds II and the Pacific Whale Foundation boats.
Want to book with our favorite Molokini charter company? Check out the BEST Molokini crater snorkel trips here!
Reasons Why We Like The Smaller Capacity Snorkeling Tour Boats
While getting on the water just in general usually leads to a great day, we prefer to go out with some of the smaller capacity snorkel boats. Usually, there are less people so you have more space and the service is generally more personal. We can get to know about the crew and by the end of the trip, you might know their whole story and have made some great friends! Plus you usually don't feel as crowded.
Some of the smaller boats usually specialize in something too (like sailing with Sail Maui's Paragon II and more on that below)
Reasons Why We Like The Larger Capacity Snorkeling Excursion Boats
There definitely are some advantages to the larger capacity Molokini crater snorkel boats.
Space
One of the reasons is there can be more space to occupy on the larger boats. You may not necessarily have more space to yourself, but there are more places that you can explore on the boat throughout the day since the boat is bigger.
Amenities and Facilities
Many of the larger boats have more roomy facilities and amenities, including marine heads (the boat equivalent of a restroom), water slides and seating.
Engine Size, Boat Speed and Location Variety
Many of the larger boats will visit multiple snorkel sites. Their larger engines allow for them to get to the various snorkel sites quicker.
Here Are Just SOME of Our Recommended Trips to Choose From
With that said, depending on what you're looking for, you may be looking for a smaller boat or a larger one.
While the larger boats seem to have more amenities, features and facilities, the smaller boats tend to be a little more comfortable and a lot more personalized. While we prefer the smaller, more personalized trips, you generally have a great time on the water regardless.
Calypso Snorkeling at Molokini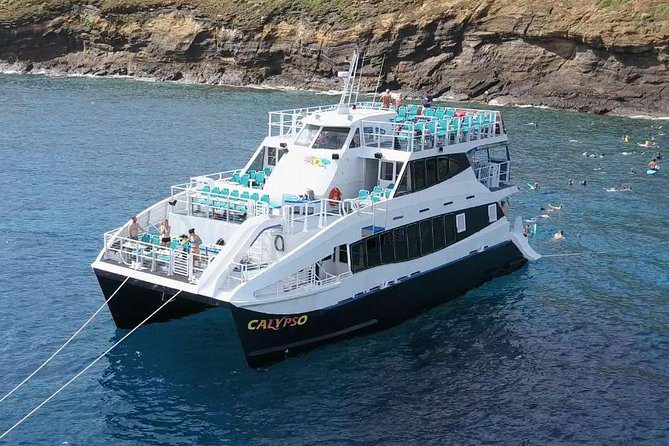 One of our recommended trips is Calypso, which is one of the largest snorkel boats going to Molokini.
They are a triple decker boat that comes with full amenities, meals, snorkel gear and the works. It's one of the newest additions to Maalaea harbor and is a state-of-the-art vessel that's Coast Guard certified to carry up to 149 passengers!
When you're at your snorkeling destination, the boat offers a handful of different ways to get in the water, including a water slide off of the upper deck and a platform that you can jump off of twenty feet above the water!
You don't have to get in the water that way, as you can also go down the ladders in the back of the boat.
On top of that, since they're a big boat and they have larger, more powerful engines, their five hour trip goes to two snorkeling spots which are usually Molokini and Turtle Town on the southwestern coast of Maui.
Book Highly Rated Molokini and Turtle Town Snorkeling!
This boat tour is a good trip if you want to experience more locations and have the amenities and stability of the a larger boat.
On the flip side, since their passenger capacity is 149 people, there's a higher chance that you'll have less room for yourself and may have to share your space with another person.
They usually go rain or shine (although in Maui, shine is the norm) so you can bank on the trip running, as opposed to some of the smaller boats that are less likely to go in the stronger weather.
You can book them here!
Maui Snorkeling's Lani Kai II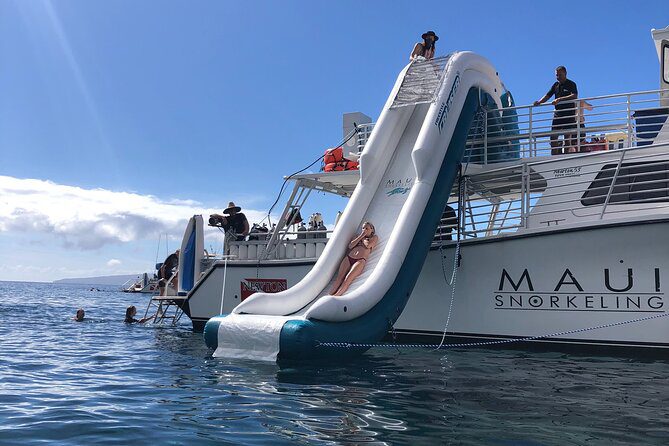 The snorkeling adventure with Maui Snorkeling's Lani Kai II is a top-notch snorkeling experience!
This medium sized boat is a great middle ground for comfort and amenities and they offer a great day on the water with their morning Molokini snorkel tour.
The tour typically goes to Molokini for their first snorkel site and then continues on to a second snorkel spot at the discretion of their experienced captains. The second spot could include snorkel locations like Turtle Town or Coral Gardens, among others, or some lesser-known secluded ones.
Side note: This boat and company are pretty renowned in the world. So much so, executives, celebrities and other people looking for privacy book this boat out privately.
Lani Kai II was recently featured in the HBO series filmed on Maui, White Lotus. While not explicitly shown, the Lani Kai II was used as the dive boat later on in season one.
On top of that, celebrities, musicians and celebrities book out this boat when they want privacy.
Just ask Kendall Jenner.
There's a reason these people are booking out this boat.
You can book a Molokini crater snorkeling tour with Lani Kai II here!
Visit Molokini with Lani Kai II!
*Our favorite: Performance Sailing on Paragon II with Sail Maui!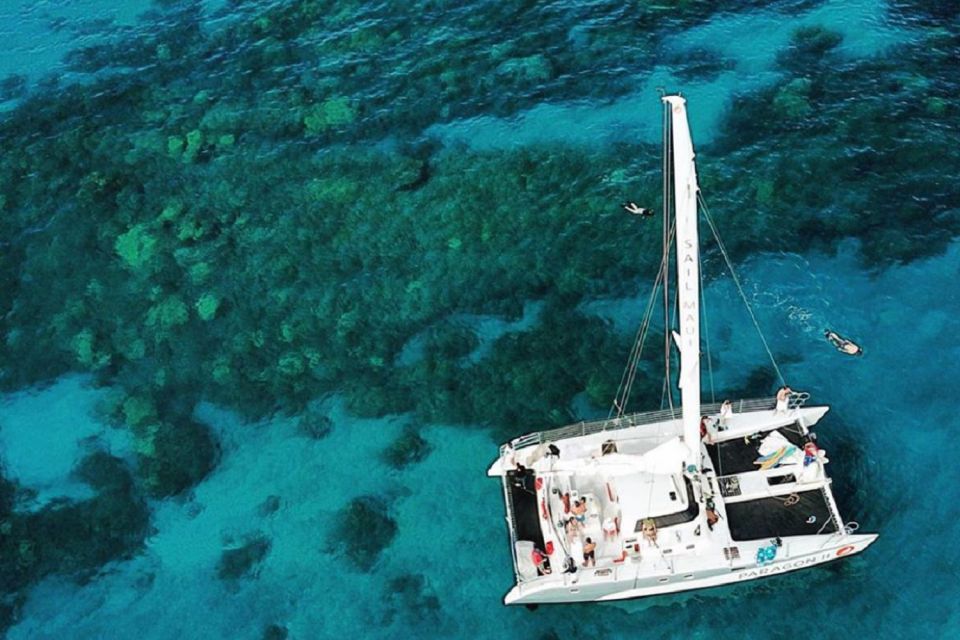 You can either take our word for it and book this trip now or you can shop around.
Book the BEST Sailing Excursion of your life!
This sailing and snorkeling adventure is one of the most memorable moments of many people's trips to Maui!
On top of our own amazing experiences, it's no surprise that after speaking with many other passengers of this boat, Paragon II, keeps people coming back year after year!
Paragon II, and her sister ship based of Lahaina Paragon, were custom built as performance sailing catamarans.
Designed to be light and fast, Paragon II is aptly named to be the paragon of excellence when it comes to sailing and your time on the water.
And this company means it when they say that they sail!
Many of the other sailboats and other sailing catamarans in Maui claim to sail but people are disappointed when they go on a boat excursion only to sail for the last five minutes or not at all.
This is NOT the case with Paragon II.
In the second windiest harbor in the world, the performance sailboat Paragon II does not disappoint! You will have the time of your life!
Just like Lani Kai II, celebrities, musicians and top of their industry individuals also book out these custom designed performance sailing catamarans when they decide to take a break from their busy lives.
Metallica guitarist Kirk Hammett, to name one (that's a $500,000 guitar, by the way).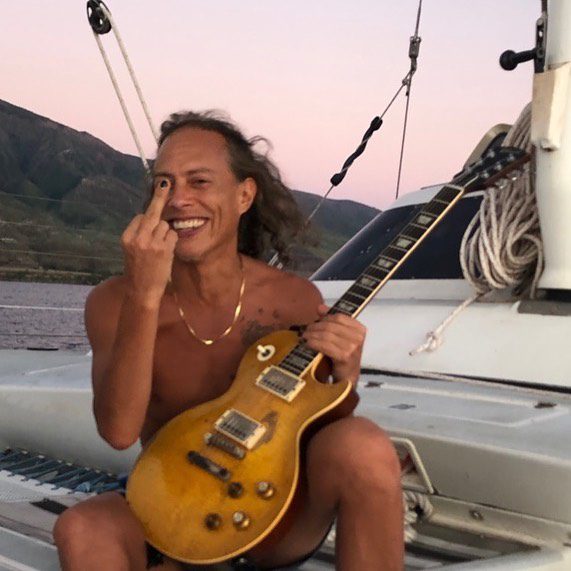 They also pick this charter for a reason and you can find out for yourself here!
You can read our comprehensive full sail maui review here
OR
You can take our word for it and book them right now here!
Book the BEST Sailing Excursion of your life!
While they typically only go to a single spot for snorkeling, which is Molokini if the conditions allow, they give you about an hour to snorkel and they sail both to Molokini and back to Maalaea Harbor, conditions allowing.
With the typical tradewinds coming from the northeast, the downwind sail on the way out to Molokini is generally calmer and the sail on the way back is more exciting and seems faster.
Book the BEST Sailing Excursion of your life!
Maalaea Harbor: One of the Windiest Harbors in the world
Here's a wind forecast for Maalaea harbor, the most likely harbor you'll leave from to go on a charter out to Molokini crater:
Want to book with our favorite Molokini charter company? Check out the BEST Molokini crater snorkel trips here!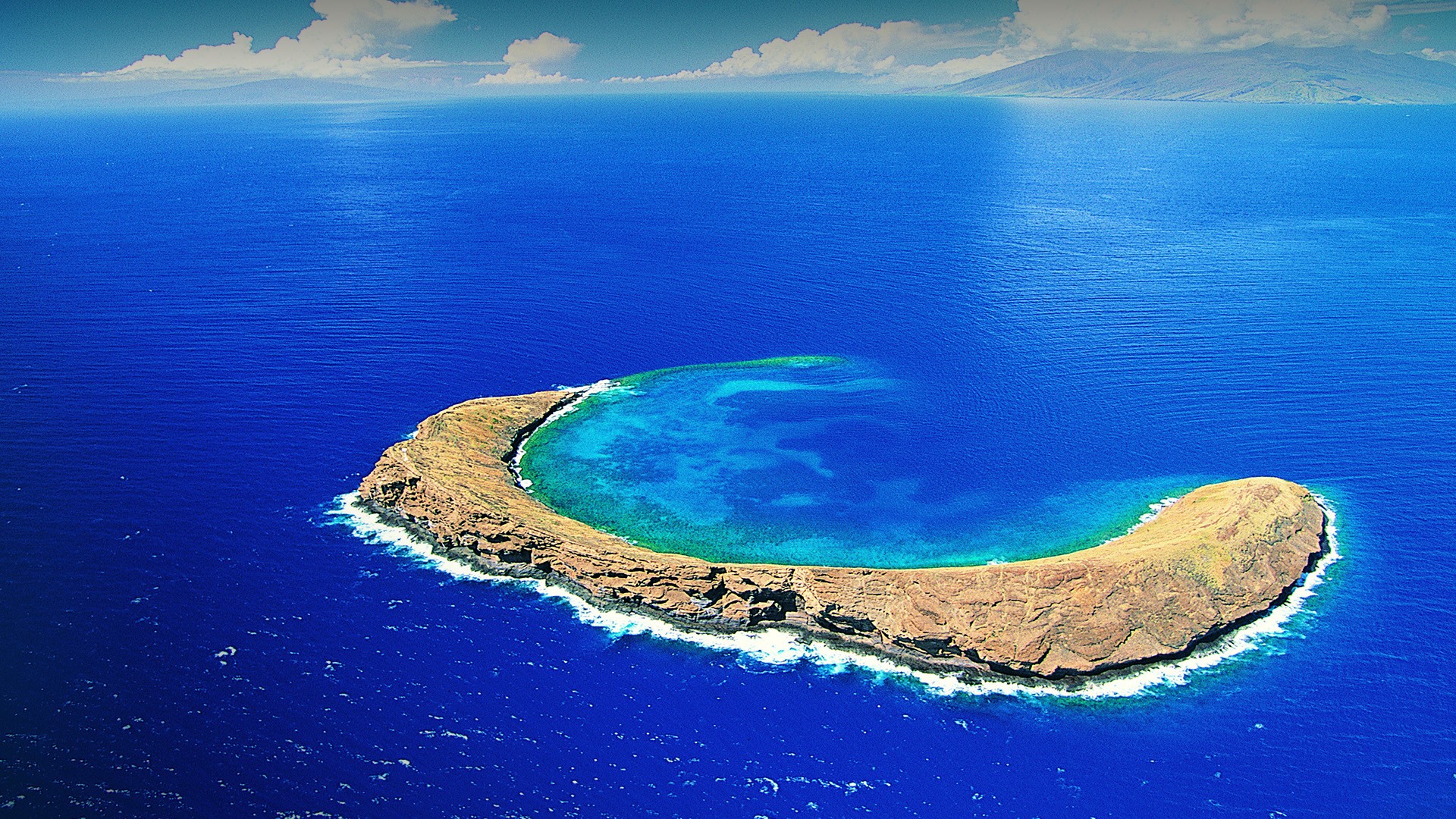 Commercial Boats only?
When Molokini was becoming a popular destination over 30 to 40 years ago, the state of Hawaii wanted to keep it preserved for the future. Because of this, instated the commercial day use permits so that if someone or a company was profiting from the trip out to the crater islet, they would need to have a commercial permit.
This would restrict the number of boats heading that way and, in turn, help preserve the marine life at Molokini.
Contrary to popular belief though, this restriction is only for commercial vessels. If you have your own boat or know someone who you don't have to pay to take you there, you can use the moorings at Molokini.
You still aren't allowed on the islet (without proper permission from the US Coast Guard and the State of Hawaii) but you can head out there and snorkel without having to be on a boat full of strangers.
However, a boat full of strangers can become friends pretty quickly. It's not much different than being on an island in the middle of the ocean.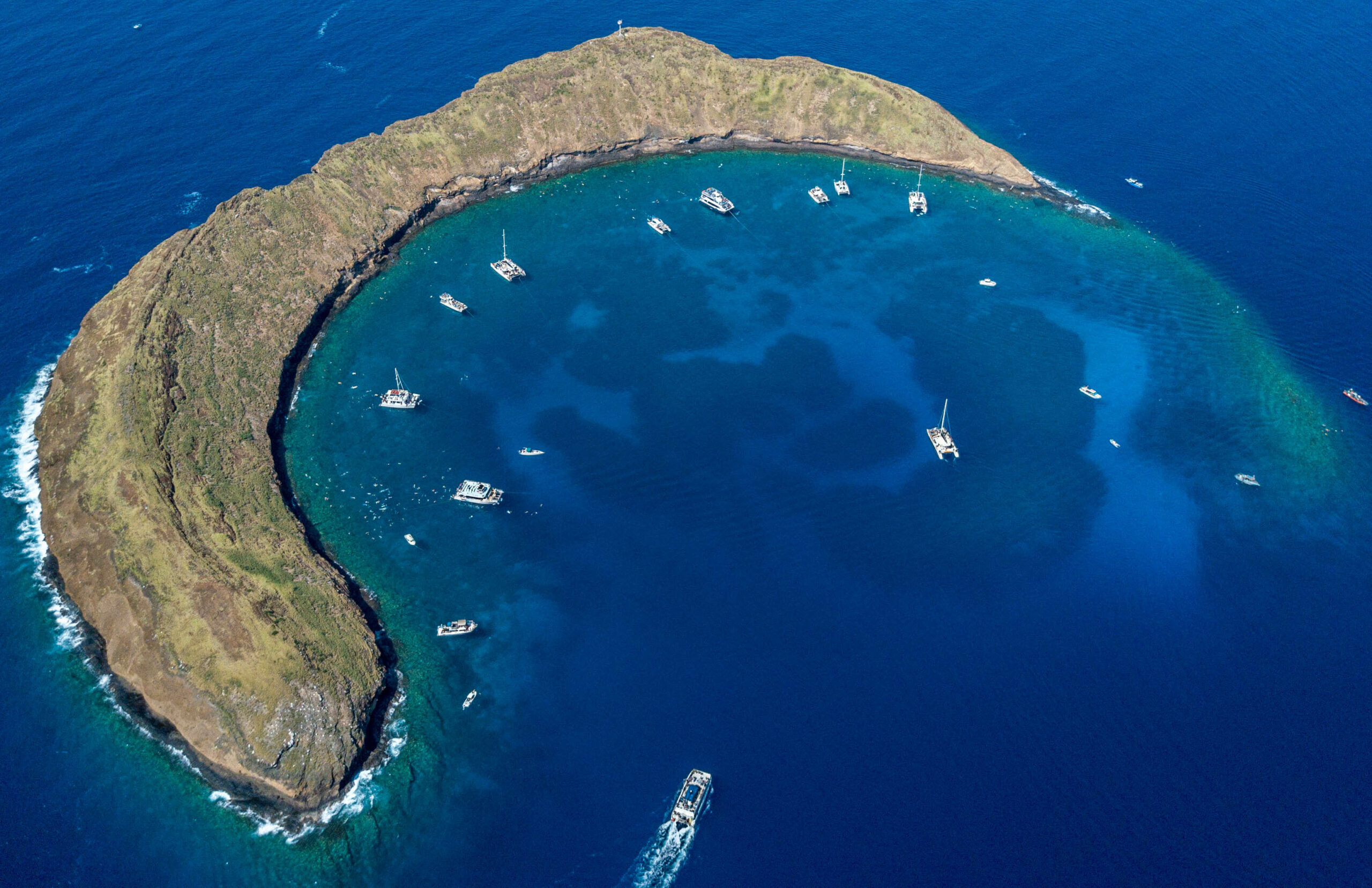 Molokini is also a great place to go Scuba Diving, with some charters taking divers to both inside the crater with an approximate max depth of 100ft, and also outside the edge of the crater, which can get up to 300 feet deep.
Don't expect to see or dive to the bottom in the deeper parts around the crater though.
There are Scuba Diving charter trips that will take divers who are not certified, however it's usually best to do this after going through the certification course.
A good compromise to try is also Snuba diving, which is a combination between snorkeling and scuba diving.
Changes to Moorings in 2019
As of 2019, the state is in the process of removing half of the moorings in hopes to preserve the marine life at Molokini Crater.
There are around 20 active commercial Molokini day use permits and with many of those boats certified by the US Coast Guard to carry up to almost 150 paying passengers, there could be as many as 20 * 150 = 3000 people at Molokini Crater at any given point (sorry for the math lesson, especially if you're already on vacation at this point)!
That's likely a rarer occasion to have all of those people there, but the point is still clear: Molokini, being the popular spot that it is, gets a lot of traffic.
More people means more chances the marine life at the crater could be disturbed. Whether it's people touching the marine life like coral (don't) or fish (also don't, but good luck with that anyway. They're fast), improper human intervention with wildlife can be a destructive and bad thing.
Want to book with our favorite Molokini charter company? Check out the BEST Molokini crater snorkel trips here!
What's the Weather at Molokini like?
Usually pretty great. That part of the island doesn't typically encounter too many storms and it's usually blue skies. As the day goes on, the trade winds pick up and it does get windier which is one reason why most of the snorkel charters happen in the morning hours.
One thing that's 99% consistent is the clarity of the water at Molokini. Most days, you could be in 100 feet of water and still be able to see the bottom. It's better to stay in 30 feet of water depth and shallower, though.
Does Molokini have Sea Turtles?
Short answer, no.
They don't like all of the Molokini crater sharks.
Just kidding.
Put yourself in the turtles' fins. You just are looking for somewhere to sleep, get food, and lay your eggs. Why swim two miles in an open ocean, just to get something in the nearest 100 feet?
Want to book with our favorite Molokini charter company? Check out the BEST Molokini crater snorkel trips here!
What will I see in there then?
Molokini is home to lots of tropical Hawaiian fish, including black triggerfish, moorish idol, needlefish, parrotfish and many more, as well as recovering coral, and just about all marine life you'll find down in Hawaii (except turtles, most likely). It's not common to see manta rays, however it's not unheard of to see them at Maui's submerged volcanic crater (actually, it's a caldera).
I know what you're thinking.
You: You avoided the question earlier. Are there sharks or not?
You got me. You might see a shark in there. Good news is it's likely to be a reef shark if you do see one. And that means most likely non-aggressive. White-tipped reef sharks like to sleep during the day and even when they're hunting for food, they're not looking for humans. It's actually pretty cool and rarer to see a shark there. Consider yourself lucky if you do.
You're more likely to get hurt by another snorkeler or diver kicking you in the head when they're not paying attention than you are to get hurt by a white-tipped reef shark there.
Tiger sharks are more aggressive, but it's very unlikely to see one in the crater. It's so busy with people and boats that they like to stay away. It's not like a cafeteria to them, it's more like a crowded subway car. Too crowded, too busy, too much going on, and not enough control.
We haven't heard of a tiger shark bothering anyone at Molokini crater in forever.
And here's a super rare one:
That being said, there are some general rules of thumb to follow to lower your risk of dancing with a tiger shark.
On another note, you might see an octopus at Molokini and they are super cool to see. They'll change color right in front of you and they're masters of disguise.
You usually don't see them unless they're moving in some way.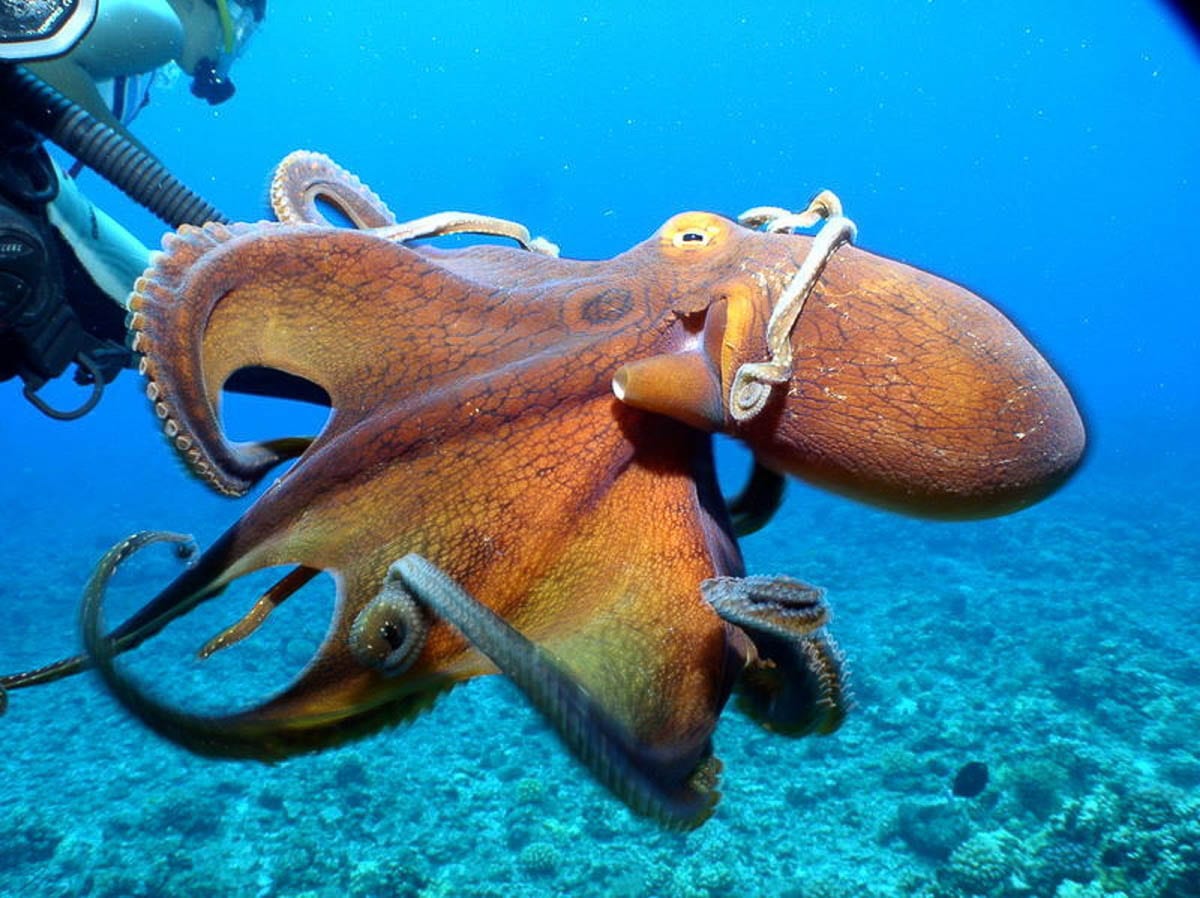 If you get super lucky, you might see a whale shark.
Want to book with our favorite Molokini charter company? Check out the BEST Molokini crater snorkel trips here!
And if you go during the right time of year, you might see whales on the way to the crater. Don't expect to see them inside the crater though. That's very rare.
Want to know our favorite snorkel charter trip to take to Molokini? Check out these guys if you want to have the absolute BEST day on the water (don't book these guys if you don't want an awesome, exciting day).
So, does Molokini have sharks?
To wrap it up, White Tip Reef sharks on a good day.
Whale Sharks on the best day!
The ones you would be worried about don't typically come out to Molokini. Maui's Tiger Sharks are the ones you hear about when there's an attack but attacks don't happen often.
And given that one, maybe two, shark attacks happen every year and that there are roughly 2.6 million visitors yearly, not counting Maui's resident population, there's a 1 in 2.5 million chance that you will be bothered by a tiger shark.
You should be more worried about snorkeling using a full-face snorkel mask.
How is the beach at Molokini?
Sorry to break it to you, but there isn't a beach at Molokini Crater. Like we said before, if you interact with the crater, you'll be fined $10,000 or more.
So even if there were a beach at Molokini, it wouldn't be recommended to lounge on it, as it would be expensive.
On the trip out to the crater, you'll see plenty of Maui's beaches from the water. Makena Beach and Big Beach can clearly be seen from right outside the crater, being roughly two miles away from Molokini itself.
If you're looking for other awesome snorkeling spots, check out the best 10 snorkeling spots on Maui.
How far is Molokini from Maui?
Many of the boats that will take you to Molokini leave from Maalaea harbor and that is roughly 10 miles away from Molokini. You're probably not swimming that.
Some other boats leave from Kihei boat ramp and one leaves from the beach in Wailea (Kaikanani), both of which are closer.
But the nearest Maui shoreline to Molokini is around 2 miles away, at Big Beach.
Can you walk on Molokini?
No!
Molokini crater is protected as a bird and marine sanctuary.
Technically a MLCD, which is a Marine Life Conservation District, there are strict laws concerning what activities you can and can't do in that area.
You're not allowed to touch anything in or on the crater, including marine life (fish).
Is snorkeling at Molokini safe?
Yes! At least as safe as any other snorkeling location.
Snorkeling can be safe or dangerous anywhere you go. But typically, Molokini is safer than many of the other snorkeling spots you might go to in Maui.
The only way you're going to get to Molokini is by boat (unless you're looking to swim a distance that might phase Michael Phelps). And buying a ticket as a passenger on a tour boat means you'll have lifeguards looking after you while you're in the water.
All commercial tour operates have to go undergo stringent certification to allow them to take you out there. One of which is that they must have a lifeguard watching over you per US Coast Guard regulations.
Which is more than you'll have at many of Maui's beaches.
So yes, snorkeling at Molokini is safe, at least as safe as snorkeling can be.
So who's the best company to go Molokini with?
There are a bunch of great companies, but here's our review of our favorite! And you can book a trip with them here!