Kahekili Beach Park, which is also known as airport beach, is a beach on the west side of Maui in Kaanapali. Airport beach is in a great, easy to access location if you're staying on the west side of Maui. There are plenty of nice, long stretches of beach there (even though beaches in Maui are starting to erode and wash out to the ocean) and there is even a small outdoor pavillion area for events and picnics or get-togethers. On top of the showers available here and designated restroom facilities, there is also a close parking lot so you won't have to go far from your car to the beach or the water.
But does it rate a visit? Read more to find out our thoughts!
Disclaimer
Going to the beach can be a fun and enjoyable experience, but there are also potential dangers. Swimmers should be aware of strong currents and rip tides, which can be deadly. Sun exposure can cause sunburn and skin damage, so sunscreen and protective clothing are recommended. Marine life, such as jellyfish and other stinging creatures, can also be present in the ocean, so caution should be taken when entering the water.
Description: What's it like at Kahekili Beach Park, AKA Airport Beach?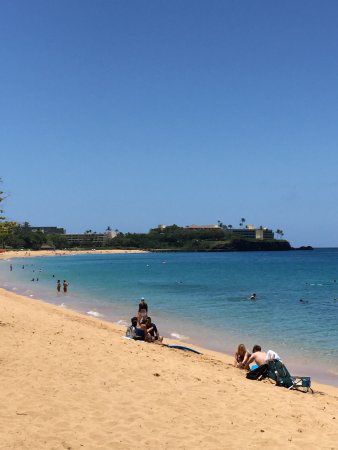 Kahekili Beach Park, also known as Airport Beach, is located in West Maui, north of Lahaina in Kaanapali. With easy to access public parking, the better than average amenities offered at most of the beaches in Maui, like restrooms, outdoor showers and picnic tables, and generally great weather and conditions, Kahekili Beach Park is a great beach to check out when in Maui.
This is also generally a spot with plenty of parking. The beach is also just a short walk from the parking lot, across small grass lawns.
Kahekili Beach Park is north of Kaanapali Beach, past West Maui's volcanic landmark, Black Rock and it is a sandy beach, just like Kaanapali Beach.
Of course, every beach has its debris and Kahekili is no exception, it's a great beach for sunbathing, snorkeling and gatherings as well.
On top of being a great snorkeling spot, it's also great for scuba diving if you're certified and there are a handful of scuba diving outfits that actively take their customers diving in the ocean directly near Airport Beach. The deeper waters further away from shore offer some great marine life, even if you don't have to go far from shore to start to see some of Maui's sea creatures, Hawaiian fish and a healthy coral reef.
Also, being so close in proximity to Ka'anapali Beach also means its easy to access and won't take long to get to from many of the more popular resorts in West Maui.
Ka'anapali Beach, where many of the more major resort hotels are, is among some of the more popular beaches in Maui make this an easy spot to get to and airport beach will likely be a little less crowded than Ka'anapali Beach.
Generally, you'll have plenty of room to throw up your beach umbrellas (here's a list of our favorite beach umbrellas), set up your beach chairs and post up for the the day or part of the day.
Families with children will appreciate this beach as it's close to the parking lot so any additional beach toys and equipment you're towing around won't be as much of a hassle to organize as opposed to some of the other beaches you'll go to.
Location: How Do I Find Kahekili Beach Park?
Directions to Kahekili Beach Park
Kahekili Beach Park is on the northern side of Kaanapali, which is north of Lahaina on the western side of Maui.
To get there, you'll turn off of the highway at the first light north of Black Rock, where you can park at the designated parking lot.
Map of Kahekili Beach: Where is Airport Beach?
https://goo.gl/maps/mLEATDLMcjQuemap9
Amenities and Facilities at Airport Beach
Airport beach has more facilities than many of the other beaches in West Maui and just overall compared to Maui beaches in Maui.
Some of the facilities and amenities include:
Picnic Tables
Restrooms
Outdoor Showers
Restaurants within a short driving distance
Major Hotel Resorts within a short driving distance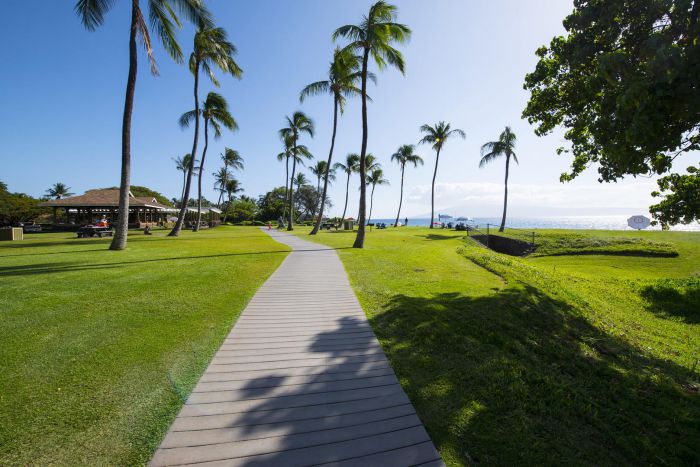 Another amazing beach is Maui's red sand beach. Read about it here!
What Else Should I Know About Kahekili Beach Park?
Are There Places to Eat at Kahekili Beach Park?
There is no direct dining option available at Kahekili Beach Park. Due to its location in Ka'anapali, there are several nearby restaurants accessible on foot such as Castaway Cafe and Pailolo Bar & Grill. Several popular restaurants in West Maui can be found on the other side of Black Rock at Ka'anapali's Whalers Village.
Kahekili Beach Park Snorkeling: Where to Snorkel at Kahekili Beach Park?
The ideal spot for snorkeling at Kahekili Beach Park is located directly in front of the pavilion situated in the middle of the park. It's hard to miss, as you'll see other people snorkeling there.
There are two primary snorkeling spots: the reef close to the shore and the one a few hundred feet away. The coral near the shore has started to decline. However, there is still an abundance of fish that can be seen without going too far out.
If you choose to swim at a greater distance, it may be a delightful experience. Due to the increased water depth, coral is able to thrive more successfully and remain protected from swimming activity. This location is often frequented by scuba businesses to offer their services to beginner and experienced divers alike. You'll likely see groups of them out there.
Looking for another picturesque beach in Maui? Check out Big Beach, one of Maui's most beautiful beaches!