Maui has a way of surprising you left and right. Of Maui's beautiful beaches, a few of them stand out. One of the most special hidden gems is the black sand beach in Maui at Waiʻānapanapa State Park. The name of the most well-known black sand area at Wai'anapanapa is Pa'iloa Beach.
Black sand beach reservations
Want us to try to help get a reservation for Wai'anapanapa State Park? Send us your info and we'll see if we can help.
What else should I know about the black sand beach on Maui?
Maui's black sand beach is a pretty special place with a lot of history relevant to Hawaiian culture. On top of that, it's one of the more popular destinations on Maui and her famous road to Hana.
Is the black sand beach real?
Yes!
Although it's not exactly what you think of when you think of beaches. The black sand originates from crushed up lava rock. Many of the sand granules are more like little pebbles.
When the water's tides crash onto the beach, the "sand" hits together, creating a soothing and melodic sound of rocks tapping together.
Actually, there are more than just the one black sand beach that Waiʻānapanapa State Park is known for. The most popular and accessible black sand beach is at Waiʻānapanapa, but there are more of them on Maui and other Hawaiian islands. Whether you'll be able to find them or get to them is a different story.
How Do I Get There?
Maui's black sand beach is in Hana, meaning if you're staying in one of the more common places on Maui, you're in for a drive to get there. Unless you're staying in Hana, you have at least a three hour drive ahead of you.
Good news is, though, that you can add this to the list of places to stop at for the Road to Hana.
You need a reservation to get into Waiʻānapanapa State Park, so make sure you book your reservation ahead of time. They book up quickly and you need one to see this must-see Maui beach.
As of now, the cost for the parking voucher is $10 per vehicle per three hours and $5 per person, plus tax.
A family of four driving in will pay $30.00 + $1.25 of Hawaii's GET tax at 4.1667% for a total of $31.25 for that three hour time slot for the reservation. Which is totally worth it, by the way.
What else does the black sand beach on Maui have to offer?
From Wikipedia, Maui's most well-known black sand beach has:
seabirds
tide pools
lava tubes
heiau, or Hawaiian religious temples
blowholes
Can I camp there?
Yes, you can! There are cabins you can rent that are very spacious and comfortable.
There is also a campsite that allows for setting up your own camping gear, if you brought it to the island. Note that during the pandemic, tent camping was suspended. As of this writing, cabin camping is still open.
You will need a reservation and you can do so at this website.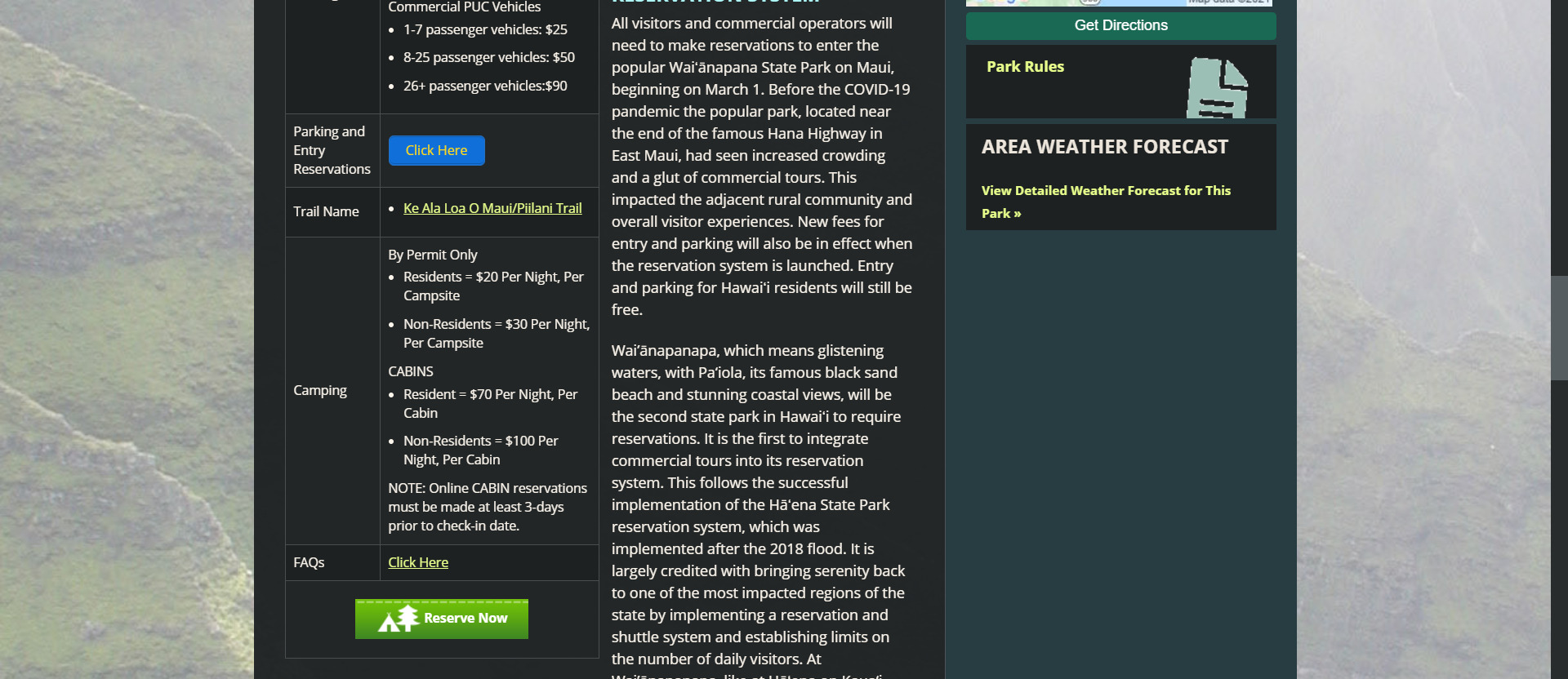 Need help getting a reservation at Maui Hawaii's black sand beach? Fill out the info and we'll see if we can help.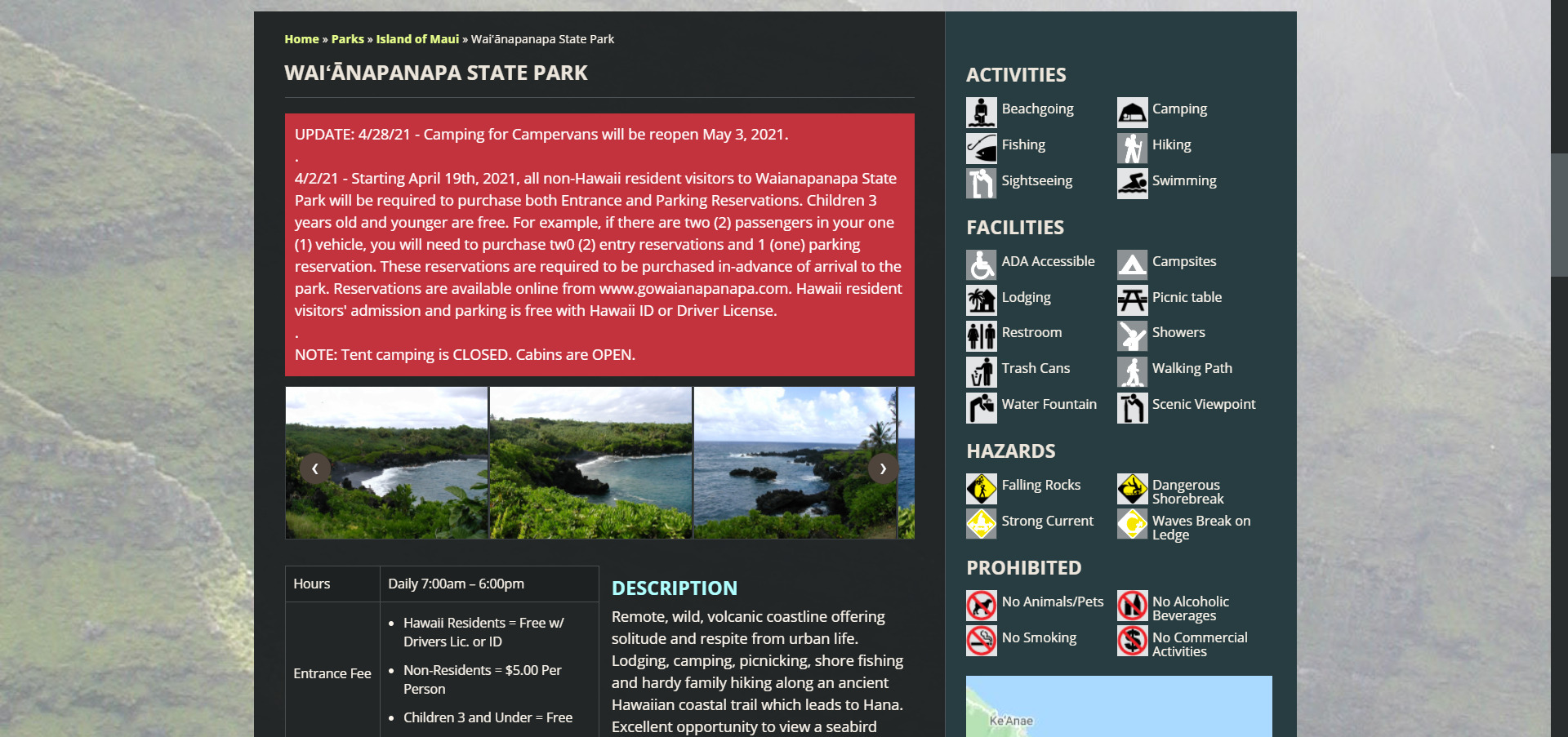 Tell me about some Hawaiian lore of the black sand beach in Hawaii!
Tide pools at the park turn red several times of a year. Scientists state that it is due to of the arrival of small shrimp, however local folklore says it's the blood of Popoaleae, a mythical princess who was murdered in a nearby lava tube by her husband, Chief Ka'akea.
The princess ran away from her husband, who was said to be incredibly cruel. Princess Popo'alaea ran and hid in one of the tide pool areas here but her reflection was seen in the water. Because of this, the Chief found her and killed her.
Several times a year, the tide pools turn red because of the shrimp. The red color of the shrimp make the pools appear blood red. However, due to the murder of princess Popo'alaea that happened here, the blood red tide pools are a memorial to the princess who was killed by her Chief and husband.
Map of the Black Sand Beach in Maui
https://goo.gl/maps/RH2ekdkLZachhg1W8
Coordinates
20°47′8.93″N 155°59′8.35″W
Near Mile Marker 32 in Hana, HI 96713
Resources
https://dlnr.hawaii.gov/dsp/parks/maui/waianapanapa-state-park/
Reservations: https://www.gowaianapanapa.com/
Other Stuff
Want to know about the OTHER best beaches on Maui? Check out the 5 Maui Beaches You Don't Want to Miss.
Also, make sure you hit Maui's one-of-a-kind red sand beach while you're out around Hana.