One easy access and must-see hike is the Nakalele Blowhole. After a five to twenty-minute hike from the parking lot, you'll arrive at a hole in an area of lava rock. When the waves crash against its cliff on the water's edge, the seawater is forced through a cavern and out its ceiling, launching the seawater out of the ground, simulating the blow of a whale's blowhole. A spectacular sight to see, the Nakalele Blowhole can launch water up sixty feet in the air and more. While some of the island's beauty is hidden behind the trees of the rainforest, some more treacherous hikes and not to mention the secrets of the locals, this sight, in particular, is pretty easy to access.
Rating
4 out of 5 coconuts! Check it out!
Difficulty
5/10
Duration
20 minutes hike one way, 40-minute hike roundtrip
Access
Parking lot on the side of the road
Where
The Nakalele Blowhole can be found on the western loop of Maui. Keep driving until past Kaanapali, Napili, and Kapalua. Once you pass mile marker 38, you'll find a parking area on your left.
Coordinates
21.027013,-156.588559
Map
Mile Marker
Approximately 38.5
Description
Getting There
A lot of the places to stop on the West Maui Loop require you to know at least a little bit where you're going. Many of the spots worth stopping at don't have big signs (or any signs for that matter) telling you that there's something there. That being said, technology can be a wonderful thing and if your service extends out here, google maps will point you to exactly the right spot. If your phone gives out on the way (or it's gone for a swim since you didn't have a waterproof case), you can find the blowhole at approximately halfway between mile marker 38 and 39 on the West Maui Loop.
Parking Lot
Once you find the parking lot on the ocean side of the road, it's pretty much self-explanatory. Most of the time, you will see other people hiking down there too, so its easy enough to find your way down. The quicker hikers will be down by the blowhole in about five to ten minutes but if you're taking your time, it shouldn't take you any more than twenty minutes. Heed the warning signs at the parking lot.
Hiking Down
Warning #1: Watch your step when hiking down. This hike is not a very strenuous hike. There isn't really a wrong direction to the blowhole once you make it to the parking lot. You will be rock hopping on your way down to the blowhole though. Make sure your footing is sound and be careful not to kick the rocks, as there will likely be someone hiking back up as you're going down.
The Blowhole!
Once you make your way down from the parking lot, you'll come into a clearing of sorts. If you're there on a normal day, you shouldn't have any trouble finding the blowhole. It can spout water sixty feet high sometimes, so for the most part, you can just follow the spray. There are a couple of spots down there aside from the Nakalele Blowhole that you may want to check out (see heart-shaped rock). But that brings us to our next warning.
Warning #2: Don't go near the blowhole. While that may seem obvious, there are some who think it's a good idea to get right next to the blowhole's hole. That's not a smart idea. There are stories of people getting too close, thinking they would look down into the hole and you hear about them getting launched into the air or falling down the hole, only to break a limb when the water spout pushed them out, or worse, died. This hike can be a perfectly safe hike, but you need to use your head. Don't try to look in the blowhole. Don't try to jump over the blowhole. Stay away from the blowhole and the explosion of seawater.
How to Enjoy
The Nakalele Blowhole is a natural phenomenon that you don't encounter in many places. Clearly, Hawaii is a special place. If you brought food or snacks down, you can have a little picnic and enjoy the spectacular views of Maui's northern coast. There are plenty of open areas not too far from the blowhole where you can sit down and enjoy a quick bite. It is pretty rocky down there, though, so don't expect to have the comfort of the hotel.
Also, while you're down there, check out the heart-shaped rock. After the hike down from the parking lot, if you go right instead of left toward the blowhole, you'll reach an open clearing and if you keeping going until you're coming up to where the ocean meets the small ten to fifteen-foot cliff, you'll come across a rock with a heart-shaped hole in it. Some say it was carved out by pirates and if you look through it from the right angle, the top of the heart points to treasure. Some also don't say that. Either way, whether it's a natural phenomenon or a man-made carving, it's a pretty neat spot.
UPDATE FEBRUARY 2020
Maui's beloved heart-shaped rock has after many years eroded. Where the heart-shaped hole once sat in the natural rock formation near the blowhole, now sits a broken half-heart. Just goes to show the fluidity of Mother Nature.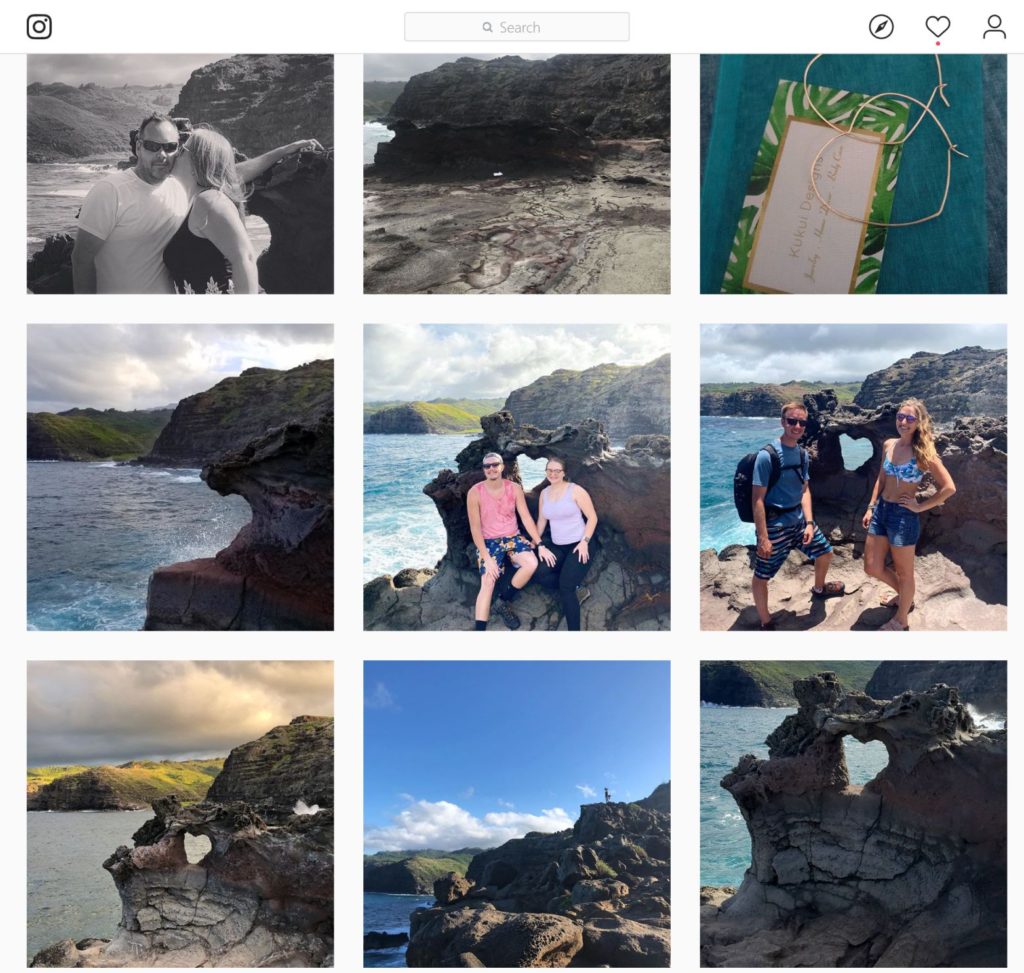 Warning #3: Just like you shouldn't get near the blowhole, always be careful when you're near the water's edge. The powerful waves crashing into the side of the lava rock is what creates the force that spews the water up like a blowhole. You don't want to get caught in between the unexpected waves and the lava rock. The lava rock can get slippery around the Nakalele Blowhole, so be careful when you're walking around, especially by the water's edge. If the rogue waves are powerful enough to erode the lava rock, they're enough to do some damage to you.
Media
Gear
Your Brain (as always when hiking)
Waterproof Phone Case (while there are others, this one is the best.)
Bug Repellent (this natural one is our favorite!)
Dry Bag (you're on an island. You'll probably get wet.)
Paracord (there's always a use for this.)
Camera or Drone (you can't beat this one.)
Spare Socks (laugh now, but you'll take this one seriously post-hike.)
Shoes (these are great hiking shoes.)
Clothes you can get wet
Sunglasses (this brand specifically is the best for ocean and water activities.)
Sunscreen (use this one to help preserve the coral and marine life.)
First Aid Kit (better safe than sorry.)
Check out this link for a deeper look: Best Things to Bring on a Hike
Nearby and Related
Acid War Zone
Kahakuloa
While you're up here, it would also be worth it to check out the tidepools of the Olivine Pools.
Other Things
Maui's Other Blowhole
There's one other main blowhole on Maui and it is out near Hana in Waianapanapa State Park. Waianapanapa State Park is home to Maui's black sand beach (Hawaiian named One'uli Beach). If seeing another blowhole wasn't enough, you will want to go there to see the black sand beach. It's one of the prettiest sights Maui has to offer.
Disclaimer
While one of the best ways to experience the world, it should be said that hiking can always be dangerous. Exercise caution when attempting any hike. Always be prepared and in the ideal situation, carry a small first aid pack with you where you go. Don't attempt anything you can't handle. Don't go chasing waterfalls. Hah!
Specific Cautions
This hike, in particular, has a few points where you should exercise caution. The blowhole itself is an act of nature, which the wise would respect. Don't go near the hole. You don't want to get caught in its path. This hike, while not considered a difficult hike, is a downhill hike. Therefore, be careful when descending and be mindful of loose dirt and rocks. There also may be people coming up when you're coming down, so don't kick rocks down the hike.
Looking for more Maui adventures? Check out these other hikes on Maui that you shouldn't miss.