Summary
By far our favorite boating and sailing charter company, Sail Maui offers an unforgettable experience, exciting sailing, premium customer service and snorkeling in some of Maui's greatest snorkeling spots. Without question, a must. Scroll down for a full review.
Want to book this trip already? You can book it now here!
And check out this list for things you might want to bring on a boat.
https://letsgotomaui.net/equipment/things-to-bring-on-a-boat/
Rating
5 out of 5 Coconuts
Price (with Discount Coupon: DonSail)
Trips Vary from as low as $60 up to $195 plus tax,
but 15% off code DonSail will knock that down to
$51 to $170 plus tax
15% Discount Code off: DonSail

Websites
https://letsgotomaui.net/get-your-guide-paragon-ii
https://letsgotomaui.net/get-your-guide-paragon
https://fareharbor.com/sailmaui/items/5300/
https://fareharbor.com/sailmaui/items/5301/
https://www.tripadvisor.com/Attraction_Review-g60634-d653404-Reviews-Sail_Maui-Lahaina_Maui_Hawaii.html
Address
Maalaea Harbor
Lahaina Harbor
Phone
(808) 244-2087
Molokini Crater Trip Breakdown
Intro and Breakfast
After checking in at 7:15 at slip 72 in Maalaea Harbor, we got on Sail Maui's Paragon II after foregoing our shoes into the shoe bucket. In the boat's cabin, there was breakfast set up with pastries, fruit and a coffee cake, along with hot coffee and hot water with hot chocolate and green tea packets.
Captain Greg, a seventy-year old windsurfer, gave a quick briefing about the boat and introduced the crew that day, Spencer and Bennett. Greg went over the safety equipment that the boat carried, as well as a few safety tips about the boat and what we could expect for the trip that day. After his speech, he waited for a lull in the wind and we were underway.
1st Sail – To Molokini Crater
Maalaea Harbor gets really windy, so that makes for a great day on the sail boat. Of the many boats that depart out of Maalaea Harbor, only a handful of them make as much use of the wind as they can. Sail Maui's Paragon II was initially designed after a performance sailing catamaran and, as such, is one of the few boats that truly sail out of Maalaea Harbor.
The captain and the crew set the sails up for the wind of the day and pretty soon after leaving the harbor, the captain gave the go ahead put the sails up. The two crew play tug of war against the sails and after no time the sails were up and the boat was moving only under wind power.
There's a significant difference between sailing and motoring on a motor boat. There's a peacefulness about moving under wind power and sails on the boat that you just don't get with a motor. Paragon II captures the essence of this since you can really feel the wind and the speed without the vibration or distracting sound of the vessels engine. Also, since there were only about twenty people on this 48-foot catamaran, it was a more personal and intimate trip, unlike some of the boats that leave Maalaea that pack up to 140 people on a trip.
Once we got about half way to Molokini, as the crew predicted, the wind died down and the motor was lowered back into the water so that we could make it to Molokini on time.
The trip from Maalaea Harbor to Molokini Crater took about 1 hr 40 min.
Snorkeling at Molokini Crater
Paragon II parks on a mooring in Molokini Crater near the westernmost tip. Before being allowed to snorkel in the water, Captain Greg gave another safety briefing about where to go and where not to go, things to keep in mind and the amount of time we get to snorkel. He made sure to tell us where not to go too, as there's a current that can sweep you out to see. He called it the "Aloha current", and it was the goodbye aloha.
Afterwards, as everyone is getting in the water, the crew and captain are helping everyone get ready, giving snorkel 101's where needed and keeping an eye on everyone in the water.
The crew on Paragon II don't lifeguard from within the water like some of the other boats do. The number of passengers allow for the crew to maintain a watchful eye on everyone from on board the boat.
Lunch
While you're out snorkeling, the Sail Maui crew set up a hearty lunch spread. In the corner, they combine all of the leftover breakfast foods but they add a variety of other lunch items: makings for sandwiches including turkey, roast beef and ham for the meat, the typical lettuce, onion, tomato and both provolone and cheddar cheese, along with your choice of white bread, whole wheat, hawaiian rolls and a hawaiian favorite, taro rolls. In addition to the sandwiches, they have a veggie tray and a freshly made pasta salad.
2nd Sail – Going Home
While it didn't look windy at first, we were assured that we would have an exciting sail on the way back. Low and behold, around halfway back to Maalaea Harbor from Molokini Crater, the wind starts filling in. We had Maui's trade winds, so the wind was funneling right through the West Maui Mountains and Maui's dormant volcano, Haleakala. Because of this funneling, the wind comes through the valley, making Maalaea "one of the world's windiest harbors."
If you like the wind, check out the windsurfers and surfers at Hookipa!
It definitely lived up to that! When you maneuver a sailboat into the wind, you can't go directly into the wind so you have to tack back and forth into the wind, which is essentially zigzagging your way back. Captain Greg had said earlier that day that sailing was not about getting to the destination; it's about the journey. This journey was the most exciting and best part of the day! It was incredible how we were going so fast without a motor and especially because we were going in to the wind.
Sailing's not about the destination; it's about the journey

– Captain Greg
But these guys at Sail Maui really sail!
If you're looking for an exciting day filled with snorkeling and actual sailing, you can't choose better than Sail Maui!
You can book with Sail Maui here!
Or you can find other awesome water activities like whale watching, snorkeling, sailing and sunset cruises here!
Looking for the best Molokini Crater Guide? Look no more!
Affiliate Disclaimer: if you book a trip through our links, we may possibly receive a commission at no additional cost to you. Want to help us keep giving you premium content about Maui? Keep reading our site and maybe find a trip or activity you'll love!
Where
Media
no images were found
Things to bring
https://letsgotomaui.net/equipment/things-to-bring-on-a-boat/
Looking for other things to do near Maalaea Harbor? Check out the Maui Ocean Center, Maui's Premier Aquarium!
Best Sailing and Boat Charter on Maui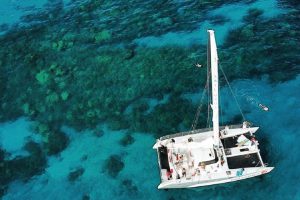 Place Name: Sail Maui
Place Description: Maui's Premier Sailing Charters
Customer Service

Sailing

Snorkeling

Food

Safety