Looking for Maui Princess Dinner Cruise reviews? Thinking about spending a night on the water and going out on a sunset dinner cruise? From their top of class prime rib, to the 120-foot boat, to the service, facilities and amenities, read on for one of the most comprehensive Maui Princess dinner cruise reviews around!
But one thing is certain.
This dinner cruise has the BEST prime rib on the island of Maui!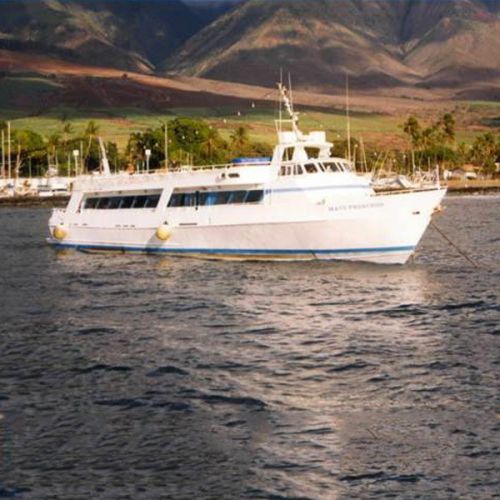 If that's enough information for you, you can book this trip now here!
But! There's a caveat. Read on to find out more.
Affiliate Disclaimer: if you book a trip through our links, we may possibly receive a commission at no additional cost to you. Want to help us keep giving you premium content about Maui? Keep reading our site and maybe find a trip or activity you'll love!
Any/all of the links on LetsGoToMaui.net are affiliate links from with I receive a small commission from sales of certain items. As an Amazon Associate, I earn from qualifying purchases. As an Amazon Prime user, I only recommend the best! Mahalo!
Description: One of the Most Comprehensive Maui Princess Dinner Cruise Reviews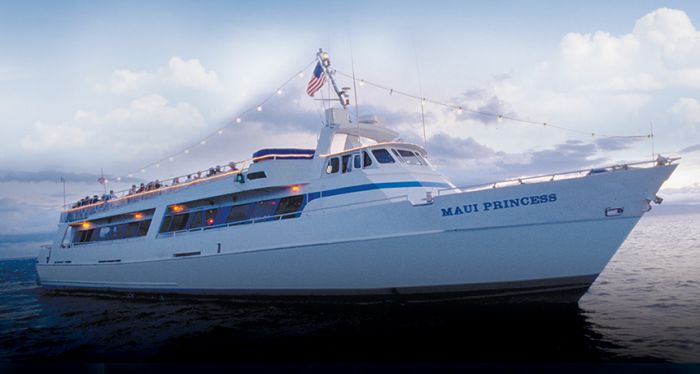 Maui Princess dinner cruise is a sunset dinner cruise out of Lahaina Harbor in West Maui. As one of the largest boats in Maui, Maui Princess runs a nightly dinner that you can't miss from the shoreline with its string of lights often silhouetted by the island of Lanai in the background. Serving only a handful of different menu options, the sunset dinner cruise boat operates once a day like clockwork, year-round.
The boat cruises up and down the coast, showing you a beautiful view of the West Maui mountains for roughly three hours, which is when they return to Lahaina harbor after (usually) beautiful sunset.
Running in almost any normal (and slightly more extreme than normal) weather conditions, you can bank on the excursion (we say excursion because it's not just a floating restaurant) going out, which you can take in both a good and a bad way.
They leave the harbor before sunset and will get in after it gets dark but the boat is illuminated well enough so you don't have to worry about wandering around in the dark.
If you're visiting Maui during Whale season, the sunset dinner cruise also is inherently a whale watching trip as well.
You'll get full sunset views of the sun setting behind the island of Lanai and full panoramic views of the West Maui mountains on the other side. These stunning views are also enhanced by the fact that you're surround by the beautiful ocean.
They serve a three course meal, starting with a garden salad with croutons and a papaya seed dressing, as well as some dinner rolls, followed by your main entree which you have to choose ahead of time, ending with your dessert. If you're lucky, you'll grab one of the taro dinner rolls, as usually only two of the four are of the taro variety, although the crew has assured us that they really are the same as the other dinner rolls.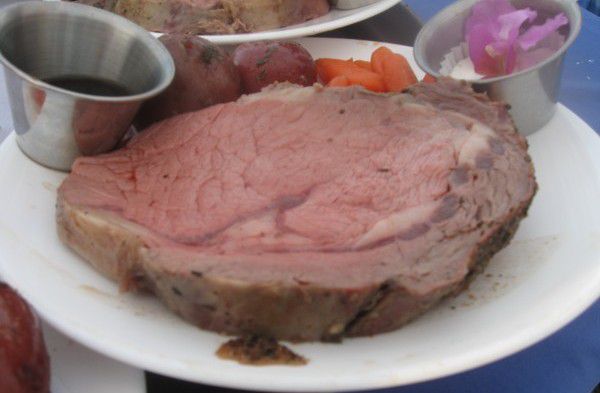 For the entrees, Yyou're pretty restricted on the options, only being able to choose which entree you want ahead of time. You have to declare which entree you want when you reserve your ticket (but that's a NO BRAINER in our minds)
It's unlikely, but you may be able switch your entree decision after booking, but don't count on it.
Since they cater the food and they don't actually cook it on the boat, they need advanced notice on what you want to eat for your entree.
The entertainment varies among several highly talented musicians, who play songs over the course of the night. Some of them have a designated set-list, but others accept requests.
While the boat is unique in that it's the longest commercial vessel operating out of Maui, that's about as special as the boat gets. It's old, not exactly the cleanest and it gives off diesel fumes which this company is infamous for.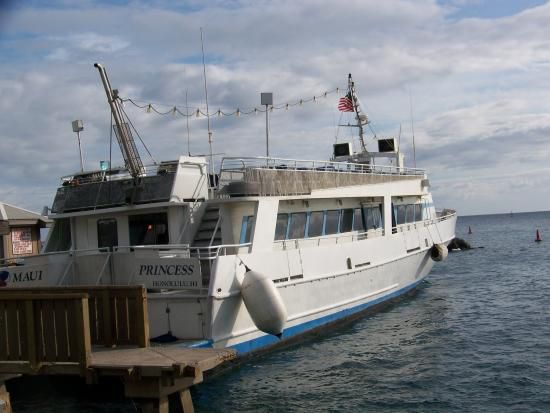 On top of that, each seat is bolted to the deck so if you're on the larger side of things, the seating may be uncomfortable. Everyone is generally seated on the upper deck of the ship for outdoor dinner, unless specifically requested to be seated inside.
You also may be sharing your table with someone you don't know if you don't book your reservation with four people. But that all depends on how busy the excursion is that day.
You may have a private table or you may be seated at a table with strangers. Because of this, reel in your expectations of a romantic evening.
The crew who act as both your mates and your restaurant staff all seem to work very hard doing their jobs, juggling both the operations of the vessel, as well as doing the full restaurant jobs too, from being your server, to plating your food and serving as your bartenders, making your drinks. They all seem to tag team each of those jobs.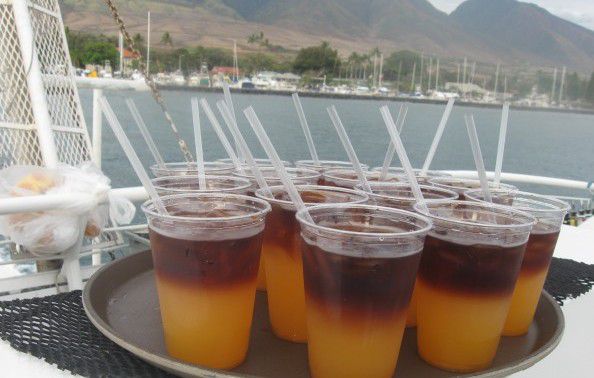 Because of this, these professional staff often times seemed very busy, but with everything they have to do, that's understandable. Regardless of that though, our experience is that the friendly staff are very attentive, although they may send you to the bar to get your alcoholic drinks as opposed to delivering them to you if they're busy.
When we've been on the boat when there were less passengers, they were a very attentive staff as well. On top of that, it becomes a very spacious vessel.
We've been out both when the boat was at max capacity with every seat filled, which is 149 passengers we later found out, and when there were "only" forty passengers on the boat.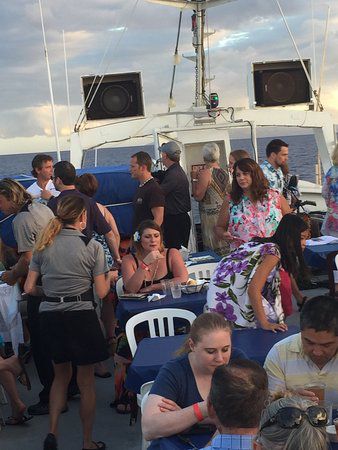 The latter is much more comfortable but you can't exactly plan around being on the boat at a lower passenger count; that's just the luck of the draw.
While what we've said so far may not be the most appealing thing, despite all reasoning, the best part about this company is its food.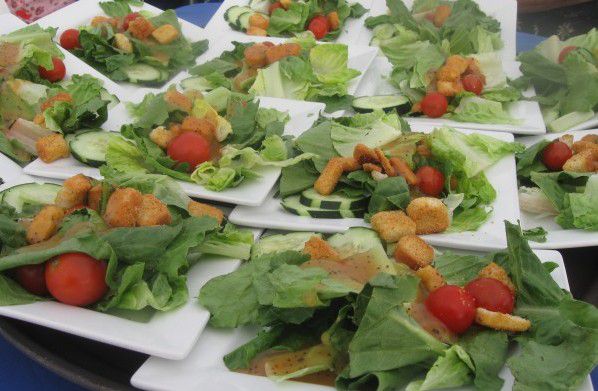 Each one of their entrees is delicious but their prime rib stands above them all. This company has the best prime rib in Maui, including all of the higher end restaurants. (Sorry Mama's Fish House. Don't worry though, everything else is better about you.)
If prime rib is your thing, this excursion is worth it for the prime rib alone!
With its options of mouthwatering prime rib, roasted chicken and breaded mahi mahi fillet with with macadamia nuts and a beurre-blanc sauce, the dinner cruise does a great job from the food standpoint.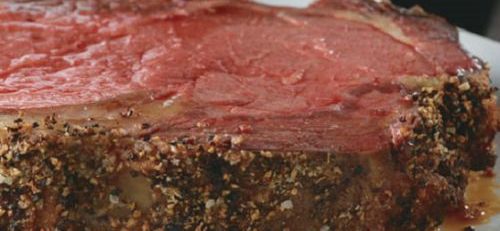 And not that the macadamia nut crusted mahi mahi with the Buerre Blanc Sauce is anything close to bad, but the prime rib alone makes this trip worth it!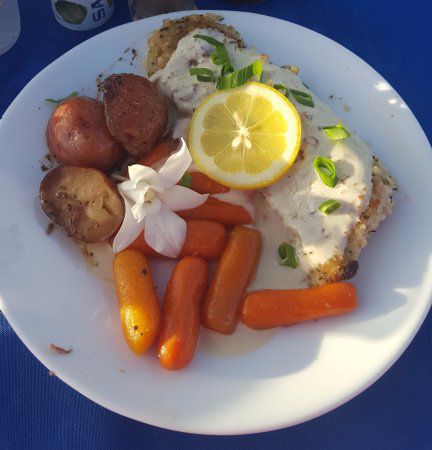 If prime rib is your thing, this excursion is worth it for the prime rib alone!
Company: Maui Princess Dinner Cruise is Owned By Lahaina Cruise Company
Lahaina Cruise Company, also known as Hawaii Ocean Project, has been around for a long time. They offer a variety of different types of boat charters, both public and private, and they usually have a boat (or three) going on the water out of Lahaina harbor all day, every day.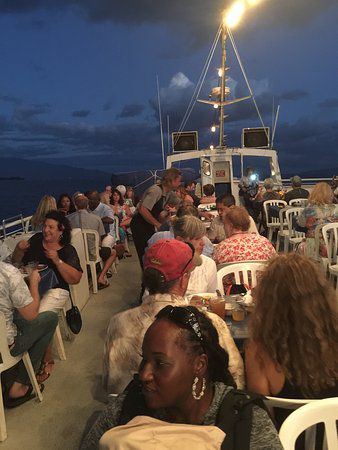 Lahaina Cruise Company is one of the companies that operates rain or shine, despite weather conditions, barring a hurricane knocking on the island of Maui's door.
Which can be both good and bad.
You can probably put money on your trip going on the water if you're scheduled on one of their tours. That means you will be able to experience the water and your activity and most likely won't have to worry about missing out on an excursion due to the company's fault.
That being said, sometimes the bad weather isn't something you'd want to experience, let alone on a boat on the water.
Lahaina Cruise Company is one of the companies that operates rain or shine, despite weather conditions, barring a hurricane knocking on the island of Maui's door.
Wind? The excursion is going.
Rain? The excursion is going.
Choppy water? Yup. The excursion is going.
That means you'll probably not likely receive a refund if you decide you're not up to the tumultuous weather and you decide to cancel versus the company canceling on you.
That being said, the weather generally is nice in sunny Lahaina, so you don't have to worry about that as much.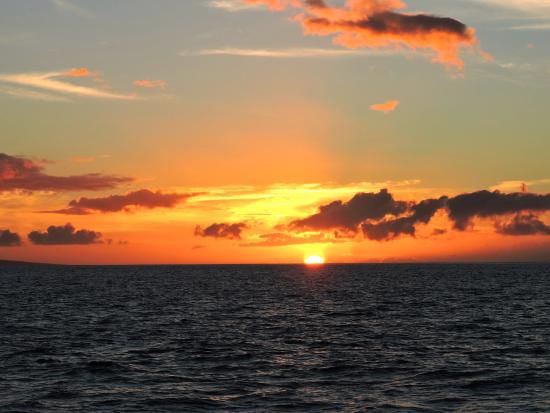 And if they do cancel on you for whatever reason, they'll offer you a full refund or reschedule you on another one of their trips if you so choose.
Boat: Tell Me About the Maui Princess
The Maui Princess has been around for a while, being close to around fifty years old. It's the longest commercial vessel operating out of Maui at around 120-feet.
It looks like it has seen some things.
It's powered by four large diesel engines, which you're made aware of when the boat is leaving Lahaina harbor, as diesel fumes emerge from the back of the boat in proportion to how hard the engines are working or how fast you need to go.
Generally they don't seem to bother the passengers much when the boat is moving forward or the wind is coming from the front of the boat. But when the boat is stopped (which in our experience rarely happens) or when the wind blows from the back of the boat, the diesel fumes become more noticeable.
Again though, any of the negatives we list here are outweighed by the quality and taste of the prime rib served on this vessel.
Service: How is the Service on the Maui Princess Dinner Cruise?
The service on the Maui Princess in all of our experience has been great. If you pulled all of the service industry workers in Maui and ranked them on hardest working, these guys would undoubtably be at the top.
On top of being your restaurant staff, they also have to crew the boat.
That being said, they often seem to have their hands busy with tasks and operating the vessel. Because of that, don't expect a personalized experience out of this.
Some boat charter trips, you get to know your crew and staff and have a personal experience.
That won't be a thing on the Maui Princess dinner cruise.
The crew always have something to do and sometimes that means you'll have to go to the bar to get your own alcoholic beverages (they have some non-alcoholic mocktails they can make too).
Trips: Main Dinner Cruises, But Sometimes Whale Watches
The Maui Princess mainly runs its daily dinner cruise which lasts for around three hours as an excursion.
You'll go on the water right before sunset and be served the three course meal, watch sunset, listen to some live music and spend time with your loved ones and maybe make some new friends at your table or nearby tables, as the quarters are pretty tight.
During whale season, the Maui Princess also runs whale watching charters in the morning.
The Food Maui Princess Dinner Cruise Review: BEST Prime Rib in Maui
Now for the meat and potatoes (pun intended).
Without a doubt in our minds, the prime rib served on the Maui Princess Dinner Cruise is the best prime rib in Maui.
The other entrees are good, but if you don't have a special diet disallowing meat, you should DEFINITELY pick the prime rib as your entree.
If there is any one, single reason you would want to take this excursion, in our minds, without a doubt, it's the prime rib.
Each entree is served with carrots and potatoes, both of which are prepared wonderfully. The carrots are carmelized and seasoned and the potatoes are baked and served with butter.
For dessert, you're given a single option of strawberry cheesecake and if one slice isn't enough, they will likely give you another if you ask.
If there is any one, single reason you would want to take this excursion, in our minds, without a doubt, it's the prime rib.
Live Music and Entertainment Review: Maui Princess Dinner Cruise and Five Star Musicians
Every time we've been on the Maui Princess, the live entertainment has been great.
They seem to cycle through a handful of very talented musicians who are usually a single musician with his or her guitar.
Some of them have accepted requests but otherwise they just follow their own setlist.
Each musician we've experienced though was a master in their own right.
Location: Where Does the Maui Princess Dinner Cruise Leave From?
Maui Princess dinner cruise leaves from Lahaina harbor in West Maui at the main loading dock.
You can't miss the boat as it's the largest commercial vessel operating in Maui and it actually hangs over the harbor's loading dock.
Time: Like Clockwork, Maui Princess Dinner Cruise Leaves Daily around 500pm
The Maui Princess leaves before sunset and will bring you back after sunset.
They have a set time schedule and have designed the trip around the sun setting, so because of this, they don't wait for late passengers.
Because of this, make sure you're on time. They won't wait for you if you're late. And with potentially 149 passengers on the trip, you shouldn't expect them too. But at least they won't leave you behind while you're out there.
make sure you're on time. They won't wait for you if you're late
Cleanliness Review: How Does the Maui Princess Dinner Cruise Rate?
The Maui Princess is the largest commercial operating vessel in Maui. As such, it's probably no easy task keeping it clean and tidy.
We'll jump right to it.
The boat is a little outdated and old.
If you're a passenger on this boat, don't expect largest vessel to mean nicest and the most upkept.
Hopefully, you don't have thoughts that you're going to be out on a "Below Deck" mega yacht because you'll be sorely mistaken.
The lower inner deck is outdated with 80s carpet. But hey, maybe you like 80s carpert.
Fortunately for you, the nicest part of the boat is either the upper deck or the front and there is no requirement for you to be inside the cabin on the lower deck. We'd recommend only go in there if you need to go to the bathroom.
The boat is a little outdated and old.
They do have some stripper poles down there (okay, okay they're probably poles for stability like on buses).
Overview: Conclusion of Our Maui Princess Dinner Cruise Review
You can jump to our rating breakdown here.
Other Things To Consider When Booking the Maui Princess Dinner Cruise
Media
no images were found
Access
Street Parking
Nearby Paid Lots
Website
Main: https://www.hawaiioceanproject.com/
Reservations: https://www.viator.com/tours/Maui/Maui-Sunset-Dinner-Cruise/d671-3774SUNSET?pid=P00076377&mcid=42383&medium=link&medium_version=selector&campaign=review
Phone
8086676165
Location
1036 Limahana Place, #3E
Lahaina HI 96761
Latitude, Longitude:
20.871629,-156.678517
Map: Where is the Maui Princess when it picks you up?
https://goo.gl/maps/8xhvW3KwgbWackDk9
Hours
Summary
Enjoy a sunset dinner on the water with surprisingly tasty food, live music and whales if you're there for the right time of the year. Not an intimate trip, as it can get busy on this boat, but can definitely be a night to remember.
Rating
Price
$$$$
Related and Nearby
Feast of Lele's
Down the Hatch
Paia Fish Market
Cool Cats
Captain Jack's
Trilogy
Pro vs Con
Pro
Unexpectedly delicious food, especially the Prime Rib
Larger boat so ocean's motion doesn't affect sea sickness as much
Con
Herded like Cattle
Can get packed in like Sardines
Diesel Fumes in the Stern (back part of the boat)
No blender for bar
Amenities
Ship Heads (restrooms)
Cabin Area for shelter from the weather
Spacious Bow Area
Live Music
Views
Ambience
Ocean View
Looking for one of our favorite excursions? Check these guys out for an AWESOME day on the water!
Maui's Largest Seafaring Vessel - Maui Princess
Prime Rib!

Stability

Comfort

Service

Food Choice

Food Quality

Live Entertainment

Drinks

Check-In Process

Communication

Vessel

Amenities

Cost