Looking for a Maui Butterfly Farm review? Look no further! Maui's butterfly farm in Olowalu is a nice little slice of serenity, in between Lahaina and Maalaea, on the way to the western side of Maui. If you like being in the outdoors or in a garden, this little pocket of peace may be for you.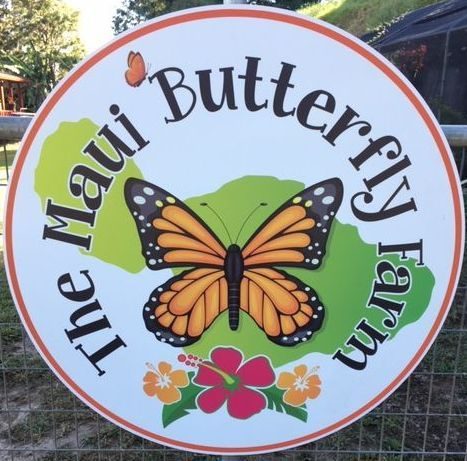 This farm doesn't take long to check out and it could be a nice way for nature-lovers to get away from the crowds and maybe grab a bite at nearby restaurants at this rest area on the to and from Lahaina in the morning, since the Maui butterfly farm closes at 1:00 pm. You can also go on the butterfly farm tour, where you can help feed the butterflies. This hands on butterfly tour can be great fun for all ages, from young kids to older adults. On top of that, it's one of the few places in the world you are guaranteed to experience butterflies that are endemic to Hawaii, mainly the Kamehameha butterfly and the udara blackburnii. The hawaiian name for the Kamehemeha butterfly is the pulelehua. Fun fact, the state insect of Hawaii is the Monarch Butterfly as of 2009!
Already know you want to go to the Maui Butterfly Farm? Get your tickets hours in advance here to make sure you can get in before they're out!
Description: What's up with the Maui Butterfly Farm?
On their website, the Maui Butterfly farm states:
As Hawaii's premier and only butterfly conservation facility we are the only establishment in the entire State whose main goal is to teach the importance of butterfly conservation through experiential learning.
Also,
We are a certified Monarch Waystation and strive to save the butterflies through propagation, research and education.
While there may be a handful of mainland butterfly farms, at the moment the Maui Butterfly Farm is the only butterfly sanctuary in the Hawaiian islands. They house a handful of different types of butterflies and are the main butterfly production facility in the nearest couple thousand miles.
That means they are the main caretakers of any species of Hawaiian butterflies, in the world. That being said, that is not the only butterfly species you'll see when visiting the Maui Butterfly Farm.
Their passion permeates through their actions, preserving Maui's butterflies and sharing it with the world to spread the knowledge in hopes of bringing butterfly awareness to the public.
Their mission is to preserve and "Save Hawaii's Butterflies, One Caterpillar at a Time!"
You can read more about their company's mission here.

Rating
7 / 10 Coconuts for those who are interested!
If you're interested in the outdoors and butterflies and want to get away from the crowds, the Maui Butterfly Farm could be for you! It's an activity that won't take all day to experience and you can do it on the way when you're either leaving the west side like Lahaina or Kaanapali to go to the other side of Maui or to Maalaea (we recommend Maui's aquarium, the Maui Ocean Center), or vice versa!
If you're planning on going here, make sure you go in the morning, as they close up shop around 1:00pm in the afternoon.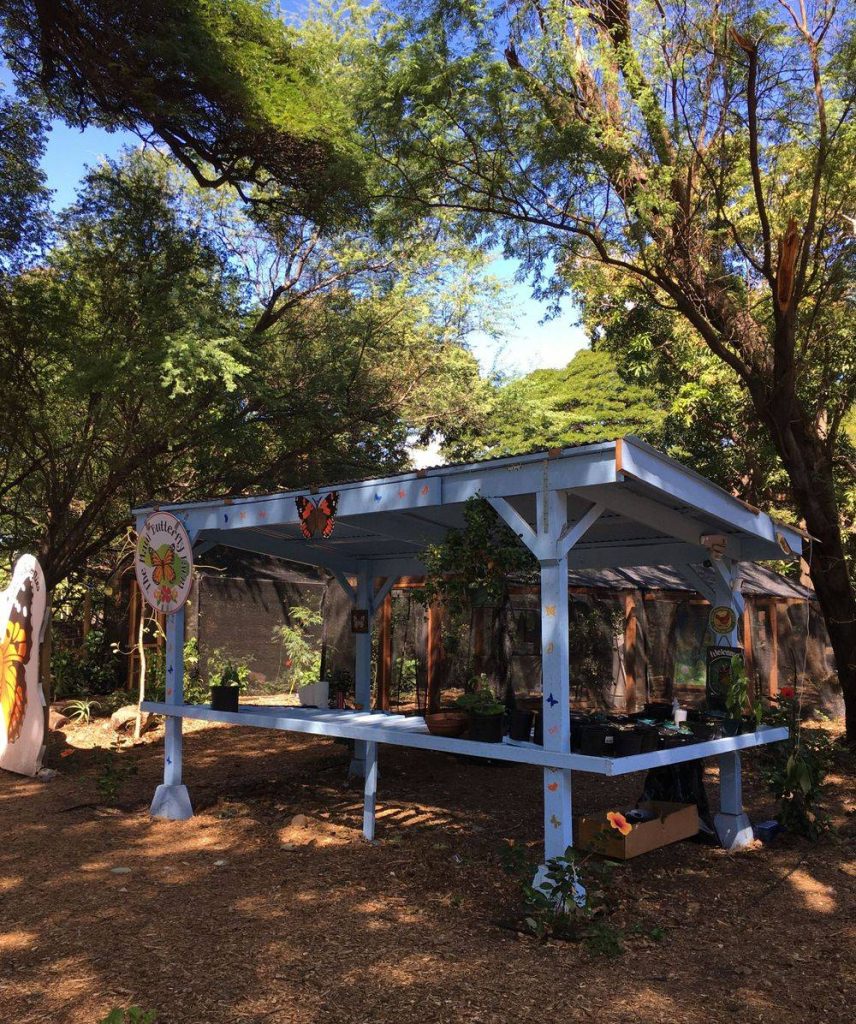 And you may want to book your ticket ahead of time so you can save some time, which you can do here!
Location: How do I get to the Maui Butterfly Farm?
While not terribly difficult to find, you may have to go out of your way to get to Maui's main Butterfly farm, which could be a good thing if you're trying to get away from the crowds.
The Maui Butterfly Farm is in Olowalu, roughly halfway between Maalaea Harbor and Lahaina, on the western side of Maui.
There is a canopy to of trees when you're driving on the road that has Leoda's Pie Shop, an outdoor market that has fruit (note that we don't call it a farmer's market because rumor has it that they buy some of the produce from Costco) and a general store, among others.
While not exactly hidden, you may not know to go here for the butterfly farm unless you know it's there, or you happen to be stopping for another reason (Leoda's Pies are some of the best in Maui).
Pro Tip: Stop and get a Leoda's Pie while you're here, if the line isn't too long (many times, the line is out of the door though)
Map
https://goo.gl/maps/DdDv7eKJJ24KM85H9
Address: 820 Olowalu Village Rd, Lahaina, HI 96761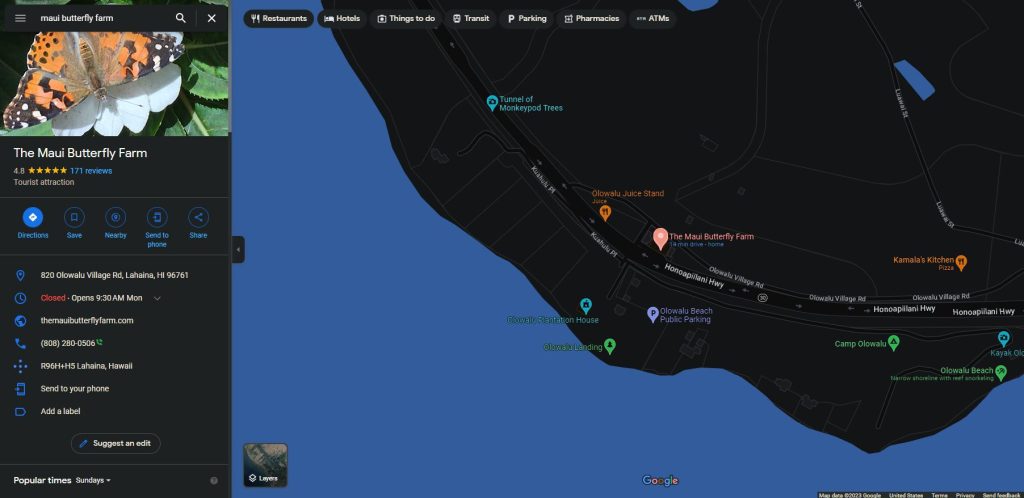 Hours: When is the Maui Butterfly Farm open?
| | |
| --- | --- |
| Sunday | 9:30 AM–1 PM |
| Monday | 9:30 AM–1 PM |
| Tuesday | 9:30 AM–1 PM |
| Wednesday | 9:30 AM–1 PM |
| Thursday | 9:30 AM–1 PM |
| Friday | 9:30 AM–1 PM |
| Saturday | 9:30 AM–1 PM |
Media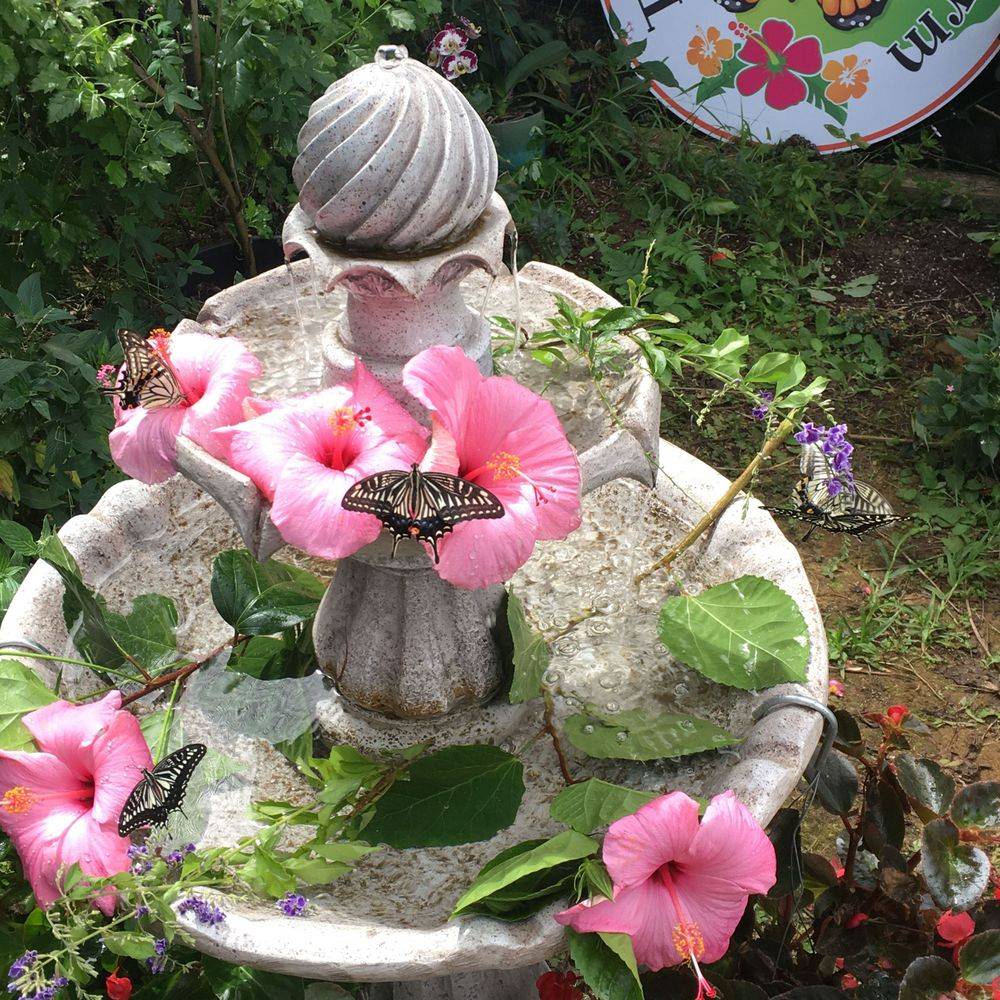 Related Links
FAQs: What Else Should I Know About the Maui Butterfly Farm?
We've tried to answer some commonly asked questions below!
How long does the Maui Butterfly Farm take?
It usually takes around an hour. The average duration is around 45 minutes for your tour and it could take more if the surge of curiosity hits you and you want to quiz the butterfly experts on their knowledge.
What else should I do around the Maui Butterfly Farm?
There are a handful of things to do in this area. While it's in a fairly isolated area, anything you might want to do in the area is probably within five minutes.
First on our list is Leoda's Pie shop. Leoda's has the best pies in Maui and that's what they're known for. Many times, there's a line out of the doorway for people who are looking to get pies.
BUT! They also have great food too. Our favorite is their Tuna sandwich. They also have appetizers as well, so they're a full fledge restaurant.
You won't regret it if you stop at Leodas!
There's also a general store here, where you can stock up on snacks and beach necessities.
It would be wise if you weren't just passing through to use the bathrooms around here.
Next, you're in a great area for beaches and snorkeling.
Olowalu is known to have awesome snorkeling and a high likelihood of seeing turtles!
If you come prepared, you can post up at the beach along the highway and have a beach and water day.
Check out our list of things to bring to the beach if you need prep and packing ideas!
The other main thing in the area is the open air market.
CAUTION: Take note that we said open air market, not farmer's market.
In the past, there have been rumors that they source many of their produce from Costco. That may not be true, or it may have changed, however if you're going to this open air market, assuming you're getting island-fresh or farm-fresh produce, do your due diligence and check.
Not saying their produce is bad, but it may not be what you're expecting.
That being said, it is the only market around for miles, so it may be your best bet.
What is there to eat here?
As previously mentioned, we'd highly recommend grabbing a bite at Leoda's!
You won't regret it!
If you're okay driving a bit and you're headed toward Maalaea, check out our new favorite pizzeria called Johnny's Heist! A true gourmet experience!
If you're craving seafood, you can't go wrong with some of the best seafood in Maui! Here's our list of some of our favorite seafood spots in Maui!
Have some more questions? Shoot us a message and we'll see if we can answer it!
Want help planning your trip? Check out our specially crafted example of a 7-day plan to Maui!
Wrapping up: Should I go to the Maui Butterfly Farm?
A slice of serenity for nature-lovers, the Maui Butterfly Farm is the only butterfly farm in Maui and through its passion of protecting butterflies shares its knowledge with those who visit.
Book your ticket ahead of time so you don't have to wait in line, but make sure you get there before they close, as they're only open in the mornings!
Want to get out in the sun and water more? Check out our comprehensive list of Maui beaches here!
Maui Butterfly Farm Review