Honolua Bay Maui is one of the top places on the island for snorkeling and surfing. From the short and easy jungle hike to get to the bay, to some of the best snorkeling Maui has to offer, to the waves and swells that world-class surfers pine for, Honolua bay is possibly among the most special places on island, if not the world.
Where is Honolua Bay?
Honolua Bay is located on Maui's north-western shore, just north of DT Fleming Beach Park and Slaughterhouse Bay. With views of both the islands of Lanai and Molokai, since it is on more on the north shore of Maui, you'll get picturesque views all around. You can drive around the bay, slightly past the parking area to get an overlook of the bay itself and the stunning views will be something you'll never forget.
When coming from Lahaina, Kaanapali or Kapalua, keep heading north along Maui's western loop. Roughly ten minutes north from the more populated spots on the western side of the island, you'll come across Honolua bay shortly after Slaughterhouse beach and before getting Kahakuloa Village. You can see an overhead view of Honolua Bay from Kalaepiha Point, the cliff on the southern side of the bay.
From there, you'll park on the side of the road and head through the jungle-y forest that makes Maui beautiful and unique. Once past the lush trees and tropical plants, you'll emerge onto a rocky shoreline and the bay of Honolua. There, you'll have a view of the unforgettable bay and the rocky cliffs in all of its glory.
I've heard Honolua Bay snorkeling is some of Maui's best. Is it true?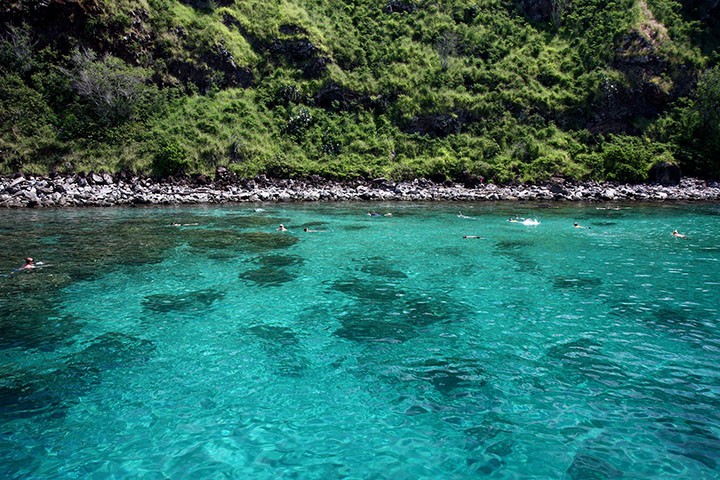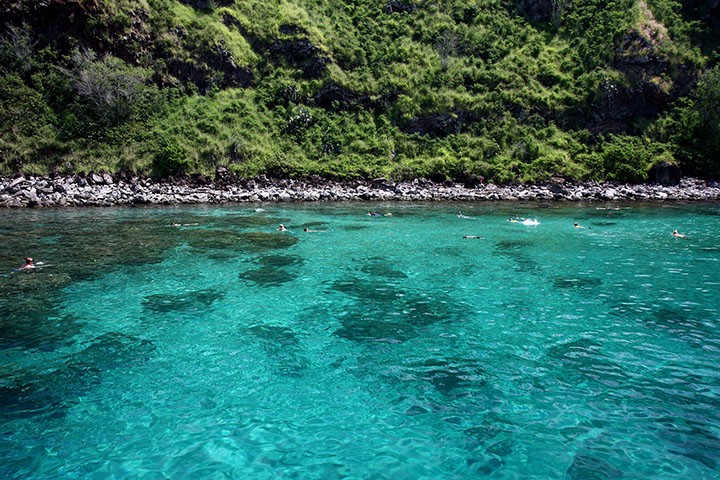 Honolua Bay as some of the best snorkeling Maui has to offer.
Being so remote and far from most of the more inhabitable parts of the island, Honolua gets a break from the daily impact that humans have on their environment, despite how hard we try to preserve the natural beauty of our surroundings.
We also recommend staying away from the full face snorkel masks. While they're a cool idea, Maui has had tons of problems with them, even to the point where a majority of the snorkel boat companies don't allow their passengers to use them anymore.
Learn more about the full face snorkel mask dangers here.
Let's face it. We're hard on our surroundings.
That's one of the reasons why Honolua has such great snorkeling. Most people live at least 15 miles away from this area. It also faces open ocean and the nearest island is ten miles away across the water and it doesn't have many people over there so our influence doesn't impact it as much.
You can see just about everything Maui has to offer in the ocean at Honolua:
Beautiful Coral
Healthy marine life
Schools of varieties of tropical fish
Turtles!
The occasional shark (more on that later)
While there's not much of a beach at Honolua bay, Maui does have some incredible beaches!
Make sure you don't forget these things to bring to the beach!
Honolua Bay Maui Shark Attacks?? Should I be worried?
Yes, the occasional shark shows up here. Like the old adage says,
Dip your finger in the ocean. Taste it. If the water is salty, there could be a shark there.
Some sharks you don't have to worry much about.
White-tipped reef sharks and black-tipped reef sharks are, for the most part, non-aggressive towards people. Now saying that, we don't recommend poking them or bothering them if you see them.
If you poked me enough, I'd probably bite you.
Give the marine life a respectful distance and you shouldn't have any problems.
However, it's always a good idea to exercise caution.
Tiger sharks on the other hand can be aggressive and they do tend to come to Honolua Bay more often than other areas on Maui.
Just about every shark attack that you hear about on Maui will be because of a tiger shark. They are larger and more territorial than reef sharks.
Here's a website that tracks Maui's tiger shark sightings.
What's the overall Honolua Bay Surf Report? Is the surf good there?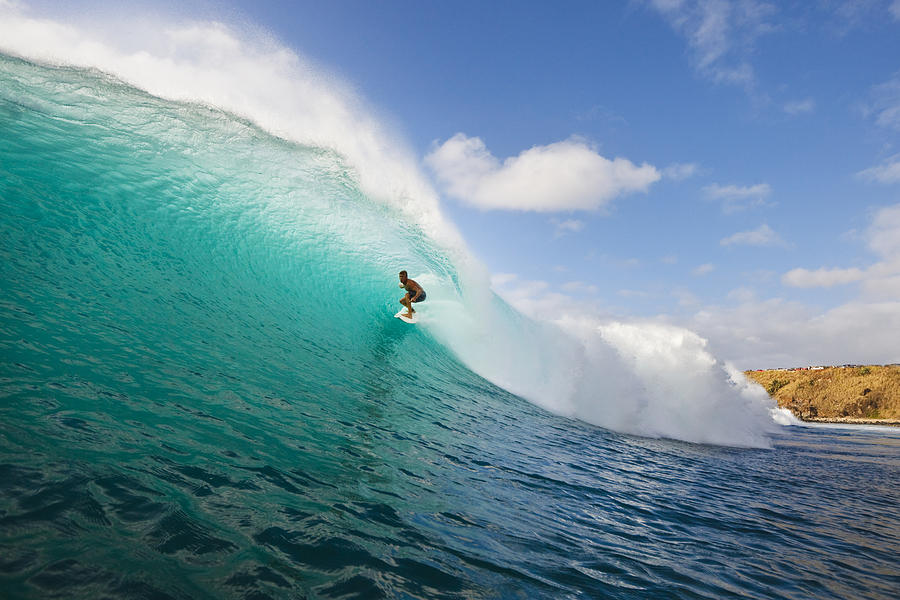 Surf at Honolua Bay can be some of the best on island.
Yearly, they hold the Maui Pro Surf Competition at Honolua where surfer's from around the world come and compete against each other. There's no boat ramp nearby for surf access, so it takes a little hiking to get to the break. But Honolua is a favorite surf spot among surfers, especially when there's a north swell firing. Needless to say, that doesn't make for great snorkeling when the surf breaks.
http://www.pacioos.hawaii.edu/voyager-news/maui-tiger-shark-tracking/
https://dlnr.hawaii.gov/sharks/
https://dlnr.hawaii.gov/sharks/shark-incidents/incidents-list/
What else to know about Honolua Bay?
Want to know something else about Honolua Bay? Let us know by sending us a message!
Otherwise, we'll cover some unanswered and common questions below!
UPDATE February 2023: Yacht Charter Runs Aground Causing Damage to Preserved Reef
Charter Yacht Nakoa has run aground on one of Maui's most protected and special coral reefs at Honolua bay in February 2023.
While there's plenty of speculation as to the cause and what happened, the end result is that the charter yacht, originally based in Hawaiian island Oahu, broke free of its mooring outside of Honolua bay and ended up crashed on the reef.
Several days after getting stuck on the reef, the vessel started leaking diesel fuel into Honolua bay.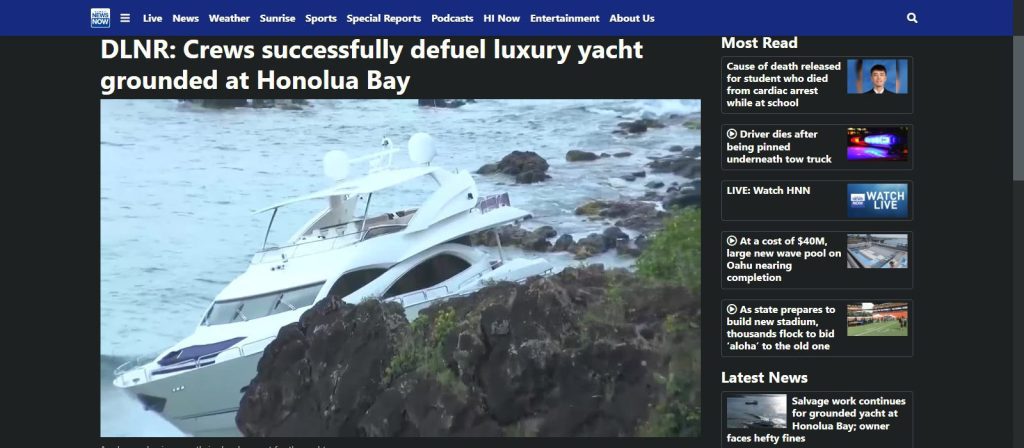 You'll find more info here, here and here.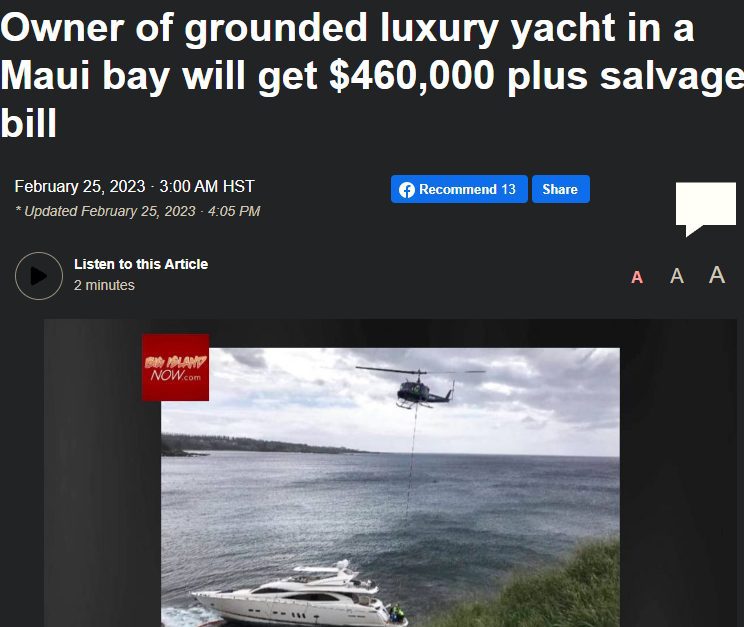 Find Honolua Bay in our very own LetsGoToMaui Directory here!
Want to check out some of the other snorkel spots on Maui? Check out Maui's most famous snorkel spot!