Kaihalulu Beach, also known as the red sand beach Maui, is possibly the most beautiful beach in the world. There are probably only a handful of places in the world that has a beach as beautiful and picturesque as Maui's secret red sand beach. This hidden gem is worth the trek to get there and will forever leave an impression that you will never forget.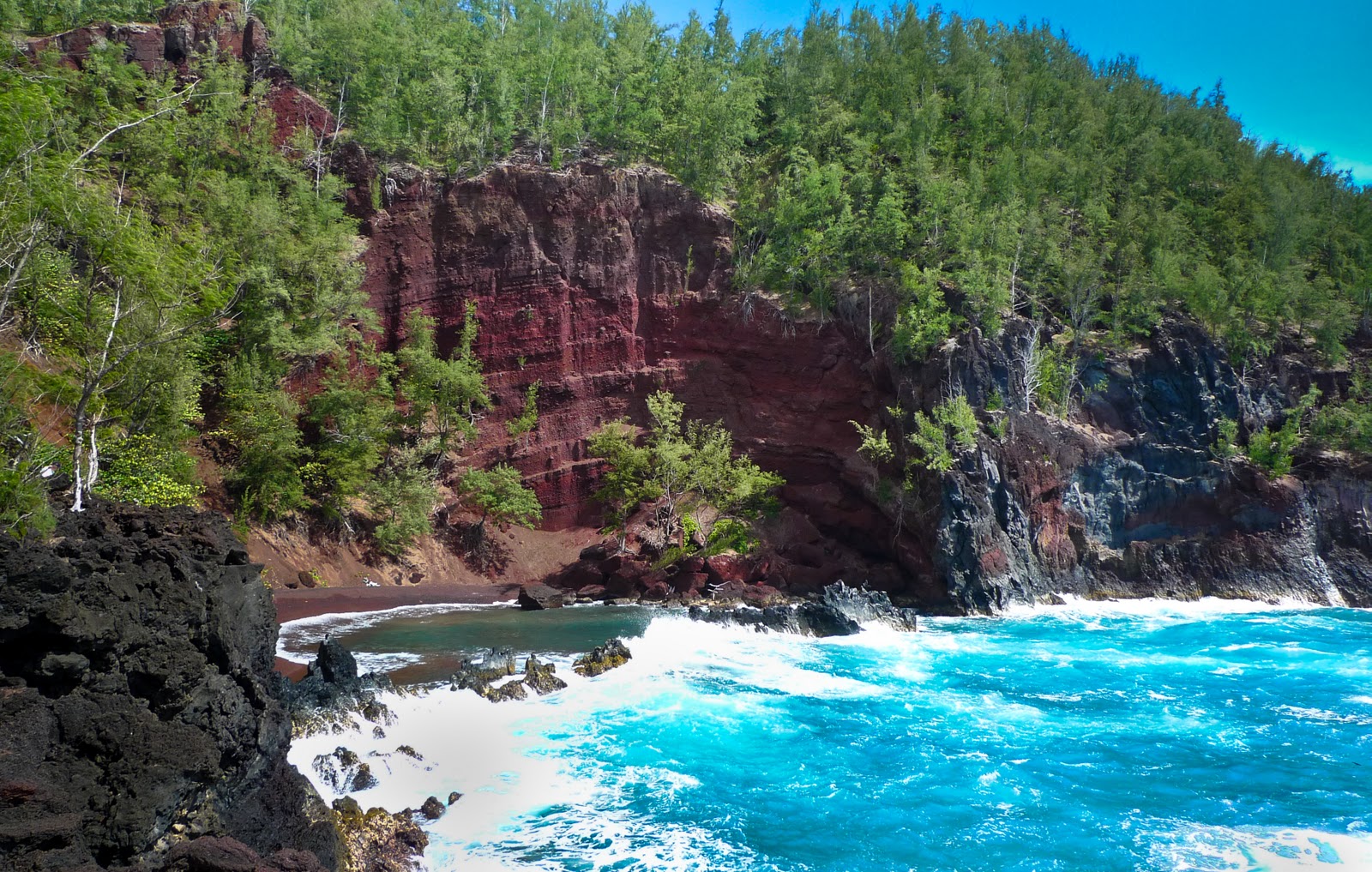 Rating
5 out of 5 coconuts!! This is a must!!
Summary
Maui is world-known for its beauty and of all of the beaches and secrets that Maui holds, this could possibly be one of its best. The red sand beach in East Maui is one of the few red sand beaches in the world that exists due to the volcanic nature of the island and the red sand next to the blue water around Maui is a sight to behold. To experience this beauty, you will have to make your way to Hana on the eastern side of the island. Once there, there's a small hike along the water's edge, where you'll eventually come around a bend and reach this amazing and, usually, secluded beach.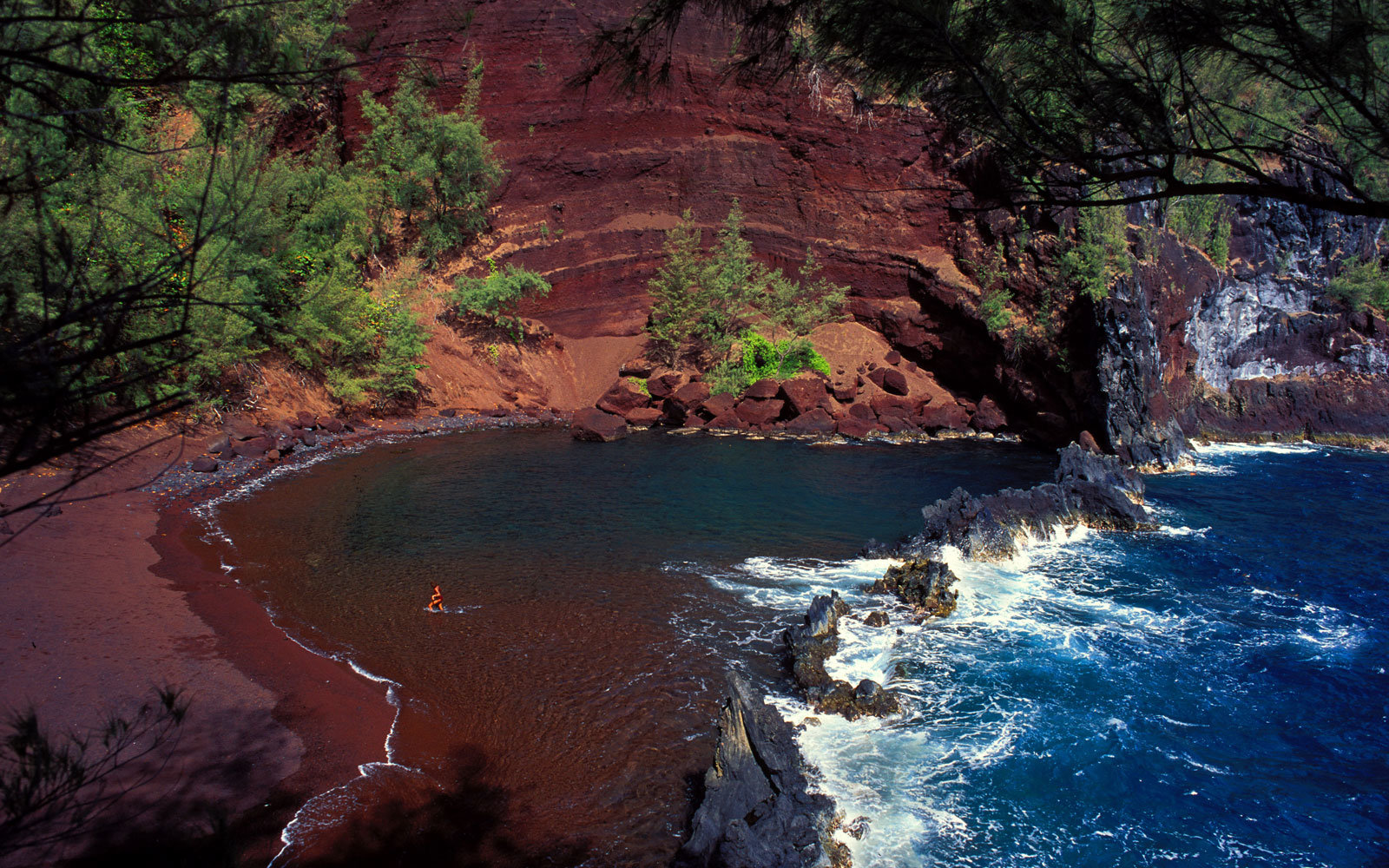 Difficulty
4/10, just take it slow on the sandy and rocky paths, especially if it has been raining.
Duration
Approximately 3 1/2 hours to get to Hana from Kahului
20 minutes from parking by the school to hike to the red sand beach
Access
Park along the street, then hike the path behind Hana town's school, along the water's edge, to get to the red sand beach
Latitude, Longitude
Description
Once you get to Hana town, you'll head down to the school by the water and the Travaasa resort. Park on the road outside the school, but make sure you don't block any gates.
You'll head down the road, toward the direction of the water and you'll come to a field. Cross the field and head through some trees. As you go through the trees, you'll be on a slight decline and you will see the ocean. Keep following that trail, making sure to take it slowly if it has been raining and the trail is wet.
You will follow this trail until you get to the red sand beach and it should take the average person anywhere between five (5) and fifteen (15) minutes.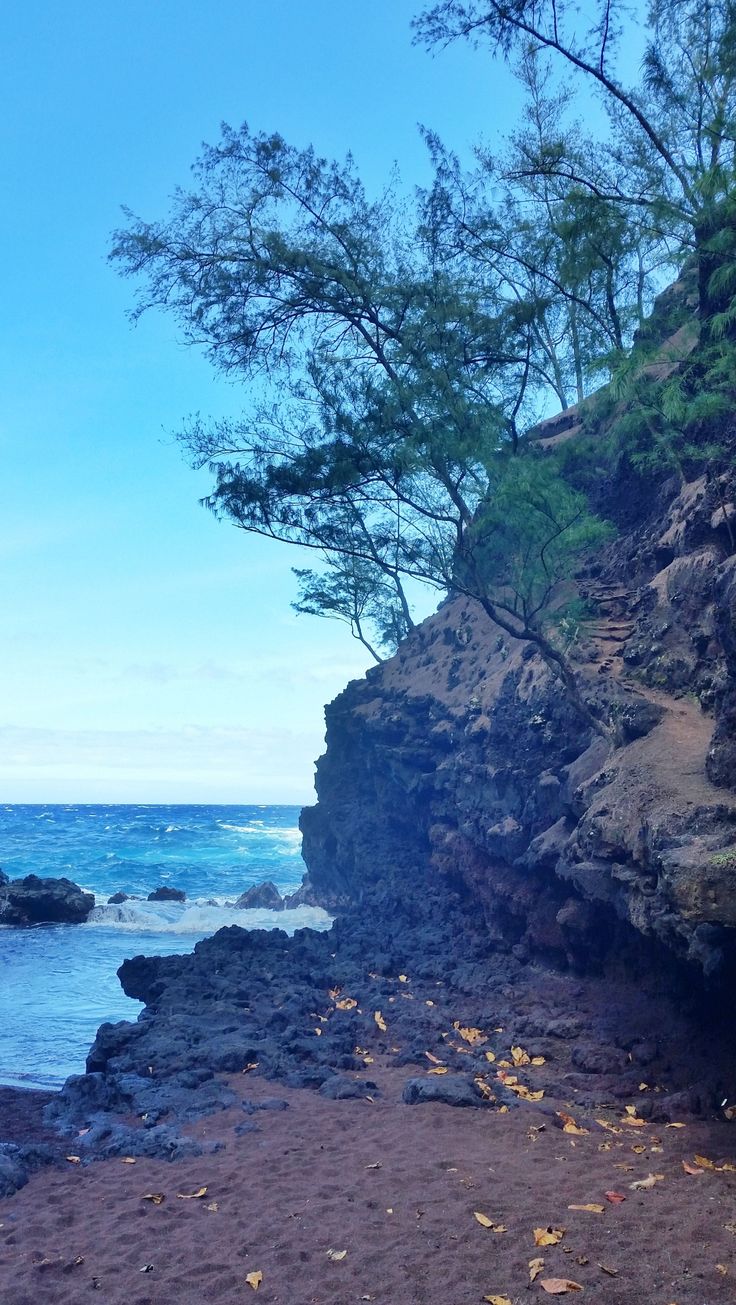 What else should I know?
What causes red sand beaches in Hawaii?
Rust.
The red sand at Kaihalulu red sand beach is formed by lava rock. The Hawaiian islands were formed (and are still forming) by the eruption of volcanoes.
For the red sand, the lava cooled about the surface of the ocean instead of cooled under the water's surface. Then, because of its exposure to the open air, the lava rock's high iron content formed iron oxide, or rust. Instead of the black lava rock that turns into black sand, like at Punalu'u Beach, the iron-rich sand here turned rust-red.
The sand took its reddish color from the rust in the lava rock and has been ground into sand particles from the red rock, forming this beautiful red sand. This secret beach is one of the few places in the world that house this beauty.
Is red sand beach dangerous?
It can be.
There are a bunch of accounts of people getting into trouble in the water and needing to be rescued, which is a bigger problem here than at other beaches because of its seclusion and the fact that there are no lifeguards.
Our recommendation? Don't do anything stupid in the water. Be cautious, don't swim too far out and don't do anything that you can't handle. In many places there will be lifeguards or other people like good samaritans that may help you, but there are no lifeguards here and other people would be swimming into danger to save you if you swam into a dangerous situation. Don't expect them to.
Here's a link to an article at Maui Now talking about how people have needed to be rescued.
And here's another. And another.
Exercise caution.
Are there lifeguards at Kaihalulu Beach?
There are no lifeguards at the red sand beach Maui.
Do you need reservations for red sand beach Maui?
Yes and no.
The access to the beach is on private property so you should get the property owner's permission before going on their land to actually get to this secret beach. Otherwise, you're trespassing.
However, with that being said, there is no reservation system or access fee needed to go to the Red Sand Beach on Maui.
How long is the hike to Red Sand Beach Maui?
The hike down to the red sand beach will take anywhere between 10 and 20 minutes, depending on weather conditions and who is hiking.
Is Kaihalulu a… nude beach?
Because of its seclusion, some people consider the red sand beach on Maui a nude beach.
Keep in mind, Kaihalulu is not a state-maintained beach. There are no lifeguards or local officials present to police the beach. And all beaches in Hawaii are open to the public, aside from beaches in certain federal government areas.
If this concerns you, you may not want to go to this beach.
Is the black sand beach nearby?
Yes! It's not too far away, especially since you've come all of the way out to Hana.
The main black sand beach on Maui is Pa'iloa Beach at Waianapanapa State Park.
And that is definitely worth a visit! You need a reservation made ahead of time to get into the state park and it also requires a small fee now, but it's a small price to pay for seeing another one of Maui's most picturesque places.
Where are the green sand beaches in Hawaii?
There are no green sand beaches on Maui.
There are green sand beaches on Big Island though. It's at Papakōlea and it is one of a handful in the world.
Where can I park for the red sand beach?
In Hana town, there is street parking right before you start on the hike down. Hana's Thai restaurant (which has some of the best and most authentic Thai food on the island) sits on the same road that you can park on to get to Maui's red sand beach.
Can I take some of the red sand home?
Please no.
First, you're said to be cursed by Pele if you take sand off the island.
The curse goes that if you intentionally take sand off of the Hawaiian islands, you will be cursed until you bring it back.
Should I be worried about volcanoes or earthquakes here?
Not any more worried than you would be at any other place on Maui or the other Hawaiian islands for that matter. Maui's volcano has been inactive for a long time. Big Island has a volcano that is more active, but that shouldn't affect life on Maui or specifically at the red sand beach Maui.
What else should I see in Hana or nearby?
Support local businesses, like Thai Food by Pranee
Waianapanapa State Park
Hamoa Beach
Hana Bay
Ka'uiki Head
Kipahulu, the Seven Sacred Pools and the Bamboo Forest
You could stay at Travaasa Hana Maui Resort and enjoy Hana town a little longer
What else?
These Maui Jim sunglasses named after the red sand beach are pretty cool 🙂
Want more awesome beaches? Check out this list of 5 Maui Beaches You Don't Want to Miss.
Media
Videos
Directions
Address
Hana, HI 96713
Map
https://goo.gl/maps/cebaxrGSbWpHCgzz8
Gear
Gear
Your Brain (as always when hiking)
Waterproof Phone Case (while there are others, this one is the best.)
Bug Repellent (this natural one is our favorite!)
Dry Bag (you're on an island. You'll probably get wet.)
Paracord (there's always a use for this.)
Camera or Drone (you can't beat this one.)
Spare Socks (laugh now, but you'll take this one seriously post-hike.)
Shoes (these are great hiking shoes.)
Clothes you can get wet
Sunglasses (this brand specifically is the best for ocean and water activities.)
Sunscreen (use this one to help preserve the coral and marine life.)
First Aid Kit (better safe than sorry.)
Check out this link for a deeper look: Best Things to Bring on a Hike
Disclaimer
This is private property. By hiking on this land, you are trespassing if you don't obtain permission to do so by the landowners beforehand. We do not condone or endorse illegally trespassing on private property without permission. We do not have the rights to give permission to hike on this land and this article is informational only.
Specific Concerns
Hiking
Always be careful when hiking. Be prepared and be cautious. Maui is beautiful so it's easy to lose attention when hiking, but one false step and you could be rolling off of a cliff. Be attentive and careful when hiking on Maui.
Ocean
Don't underestimate the ocean. Only go in Maui's surrounding waters during safe conditions. Maui has some of the best lifeguards but there are many beaches that don't have them posted.
Related and Nearby
More added later
Looking for other awesome things to do on Maui? Check out this for our go to Maui Activities!